Article also available in other languages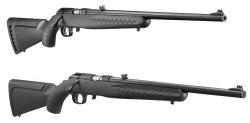 Not much time has passed since Sturm, Ruger & Co. − one of the most important names in American gunmaking, and definitely one of the world's most respected brand of hunting and sports shooting firearms, offering a great value-for-quality ratio! − decided to revamp its own brand in the field of bolt-action hunting and shooting rifles with the American Rifle model.
An instant best-seller, the Ruger American Rifle integrates a plethora of modern technologies and technical solution which Ruger wanted to implement in compliance with their newest, latest marketing strategies.
As many of you should know by now, a couple of years ago Ruger decided to enlist a few fresher, younger cadres and managers, in order to modernize their product line and relaunch the company brand, which had fallen into a sort of second-choice limbo after years in which very little or no new good products at all were conceived by the R&D department. Now, Ruger is back in full force as a gunmaking powerhouse and is directly competing with other historical, powerful brands as a market leader for civilian-grade firearms in America and elsewhere in the world.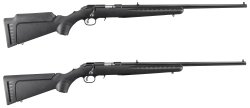 First came the SR-series polymer-frame semi-automatic pistols, which had to put Ruger in direct competition with the "Sigma", M&P and SD handgun lines proposed by Smith & Wesson; the Ruger American Rifle was instead appearently meant to compete directly with yet another great American arms manufacturer: Savage Arms. Despite being a piece of American arms industry history itself, the Savage Arms company managed to "stay on top" as the years went by through the introduction of new technical solutions that kept their guns up-to-date with modern times, keeping them practical and user-friendly without sacrificing affordability: the quality of Savage Arms' polymer stocks, or the incredible performance of their AccuTrigger system, are in the common knowledge nowadays. With inventions such as the Power Bedding or the Marksman Adjustable Trigger, Ruger offers its own quality counterparts, still at a budget price.
Now, almost three years after the first launch of the American Rifle, Ruger answers the call for a rimfire version of the design, which was much sought after by sports shooters, leisure plinkers, varmint hunters, and by these shooters involved in "Appleseed" initiatives − very popular in America − aimed to raise a new generation of sportsmen by teaching young children the basis of safe gun handling and individual marksmanship.
Only a few days ago, the Ruger American Rimfire bolt-action carbine was introduced to the U.S. market.

As its own name states, the American Rimfire carbine is a small-caliber, sporting or varmint version of Ruger's own American Rifle design. The Ruger American Rimfire bolt-action carbine is available in .22 Long Rifle and .22 Winchester Magnum Rimfire calibers: models chambered in .22 LR feature the detachable, flush-mounted BX-1 10-round rotary magazine but will accepts all magazines developed for Ruger's own 10/22 semi-automatic rimfire carbine, including the BX-25, the BX-25x2, and other aftermarket variants. Models chambered in .22 Magnum use the detachable, flush-mounted JMX-1 9-round rotary magazine.
Controls configuration on the American Rimfire carbine is just the same found on the Ruger American Rifle, as it features a magazine release lever located in front of the trigger guard and a visible, accessible and easy-to-actuate tang safety. Its 60° bolt provides ample scope clearance, while an easy-to-use, receiver-mounted bolt release allows the bolt to be readily removed without requiring a pull of the trigger, a unique safety feature among rimfire, bolt-action rifles.
All metal parts on Ruger's American Rimfire bolt-action carbine featured a black satin finish. Particularly, barrels are target-crowned, cold hammer-forged, and sport a 6 RH-grooves, 1:16"-pitch ultra-precise rifling that provides exceptional accuracy, longevity and easy cleaning.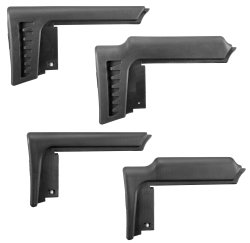 The Ruger American Rimfire bolt-action carbine is available in two basic variants: the Standard model is 41 inches long overall and sports a 22" barrel and  a 6lbs. weight, in both .22 LR and .22 WMR versions; the Compact model is 35.¾" inches long overall instead, sporting an 18" barrel and a 5.38lbs. weight.
All Ruger American Rimfire carbines come equipped with a 10/22-style adjustable, "V" slot, folding-leaf rear sight and a Williams fiber-optic front sight; plus, a 3/8" rimfire scope base is machined into the receiver, which is also drilled and tapped for Weaver#12 bases (not included). 

The Ruger American Rimfire carbine, in all its variant, comes with Ruger's own, patented Marksman Adjustable™ trigger, offering a crisp release with a pull weight that is user-adjustable between 3 and 5 pounds.
Ruger's American Rimfire carbines use an ergonomic, lightweight black composite stock, designed for quick and easy handling, that blends a classic look with modern forend contouring and grip serrations and feature Ruger's own patent-pending Power Bedding® integral bedding block system that positively locates the receiver and free-floats the barrel for outstanding accuracy.
Last, but not least, each Ruger American Rimfire carbine includes two interchangeable stock modules that provide comb height options for scope or iron sight use. Standard models come with long length of pull modules, while compact models come with short length of pull modules. By simply removing the rear sling swivel stud, stock modules can be changed in seconds. All four stock modules are completely interchangeable across all models and are available for purchase on the Ruger on-line shopping platform.
The Ruger American Rimfire bolt-action carbine is sold on the U.S. market at a manufacturer's suggested retail price of US$329.00 for both variants and all calibers. It's probably too soon to postulate about international availability, but price may (and will) change according to taxes, import fees and other dues imposed on every single national market for imported guns. Perspective non-US buyers should thus inquire for pricing and availability with their local gun shops, or with their national authorized Ruger importers and distributors: the company website features a comprehensive list of authorized Ruger distributors worldwide.