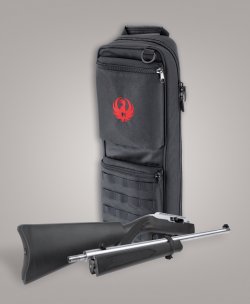 Sturm, Ruger & Company, Inc., a company that has passed the last couple of years striving to revolution its products line with the constant introduction of new models, has launched at the 2012 edition of the Las Vegas SHOT Show a "Takedown" variant of its iconic 10/22 semi-automatic rimfire sporting carbine. Readily separated into two subassemblies, the Ruger 10/22 "Takedown" carbine offers a convenient transport and storage option for the popular Ruger 10/22. As reliable and accurate as every 10/22, the Ruger 10/22 "Takedown" makes it even easier to keep America's favorite rimfire rifle by your side. The barrel and forend of the Ruger 10/22 Takedown are easily separated from the action and buttstock by pushing a recessed lever, twisting the subassemblies, and pulling them apart. Reassembly is the reverse of takedown, and is quick and easy. The friction fit lockup of the assembly joint is simple to adjust, but will rarely need re-adjustment after the first assembly. The lockup is secure and repeatable, ensuring an accurate return to zero, even when receiver-mounted optics are used.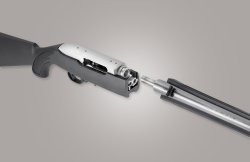 The Ruger 10/22 Takedown is shipped in a ballistic nylon backpack-style case that features internal sleeves which hold the subassemblies. External pockets with MOLLE webbing provide storage for magazines, ammunition, and other accessories. Multiple attachment points for the padded, single shoulder strap offer different carrying options.
The 4.67-pound Ruger 10/22 Takedown is 37" long when assembled; each subassembly is less than 20 1/4" long when disassembled. Utilizing the standard 10/22 action and ten round rotary magazine (one magazine is provided), the Ruger 10/22 Takedown offers legendary 10/22 reliability in a compact and portable package.