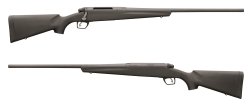 Remington is one of the first names that come in people's mind when it comes to American-made firearms. For centuries, the Remington Arms Company manufactured some of the highest-grade guns to be sold worldwide to civilian gun owners, sports shooters and hunters alike, as well as to military units and Law Enforcement agencies. In the last fifty years or so, one of Remington's best regarded platforms has been the Model 700 bolt-action rifle. Spawned into countless variants, made by either Remington or other companies, it has been sold by the millions to civilian customers and adopted by countless militaries and Police forces. Such a high quality comes at a price, though, and in these times of dire economic straits, not all potential customers can afford it − especially when it comes to hunters, who often have a very tight budget to practice their sport for a few weeks a year.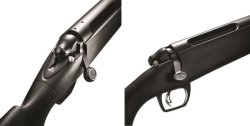 Remington is of course not oblivious of this, hence why one of their most important new products for the year 2013 is an economy version of the Remington 700 platform, specifically conceived for hunters, offering high quality and reliability at a budget price. Dubbed the Model 783, Remington's new bolt-action rifle is being manufactured at the company's recently opened new plant, located in Mayfield (Kentucky), which is currently working full-time to satisfy the humongous demand of the national U.S. market, that's been steadily on the rise ever since the last weeks of 2012, following the hype on possible restrictions to the purchase and ownership of guns and ammunition that exploded after the Sandy Hook Elementary School shooting. Even though all anti-gun law proposals resulted in a total failure at the Federal level just a few weeks ago, and even though the restrictions passed in some States are now being challenged in Court on unconstitutionality grounds, Americans still feel like they need to purchase their guns and ammunition now, just to be sure, and to send a clear message to the anti-gun lobby. Under this point of view, we might even say that the Model 783 is somehow helping the cause of Second Amendment rights' defenders!

According to Remington, the 783 model designation means what follows: the '7′ comes from the 700 line of rifles, the '8′ is kind of a throwback to the affordable but reliable model 788, which was discontinued 20 years ago, and the '3′ is for the three in 2013. Manufactured using proprietary methods that create the tightest tolerances from rifle to rifle, by the most efficient means possible, the Remington Model 783 bolt-action rifle is first first of all distinguishable by the striking lines of the new stock design. Inside, it's a true performance-enhancer, with a dual-pillar bedding platform that free-floats the barrel for the ultimate in shot-to-shot consistency. The black synthetic stock contains a high Nylon fiber content which gives the stock superior strength and rigidity. Also helping deliver those inherently tight groups is a precision button-rifled barrel. For shot control, The Remington Model 783 bolt-action rifle comes equipped with the new sear-presetting CrossFire trigger system that's is user-adjustable from 2.5 - 5 lbs by cranking the nut locked set screw in the front face of the trigger housing. The 783 features a steel detachable magazine with a steel latch.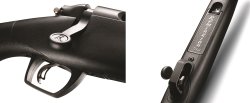 The Remington Model 783 bolt-action rifle feeds through a steel detachable magazine with a steel latch, and is available in .270-Winchester, .30-06 Springfield, .308-Winchester and 7mm Remington Magnum calibers. Capacity is four rounds for standard calibers and three rounds for Magnum calibers; similarly, the lenght of the carbon steel, magnum-contour, button-rifled barrel varies from 22" for standard calibers to 24" for Magnum chamberings. Other features include Remington's own SuperCell recoil pad to achieve better shot control; the Remington Model 783 can mount up to two front bases from the Model 700, making it even more customizable to those who may want to select it not for hunting but for sports shooting purposes: as a budget entry, it can be acceptable as a basis to build your own, custom bolt-action rifle for long-range competition. What's more enticing is the price: although the final tag may vary from seller to seller, from distributor to distributor, and of course from Country to Country, manufacturer's suggested retail price for the United States market only tops barely 451.00US$... and that's truly enticing, considering that Remington claims sub-MOA accuracy on this cost-reduced, and cost-effective, shooting machine!