PCC and compact semi-auto carbines in 9mm Luger pistol caliber have been on the rise for quite some time. This includes guns such as the US JRC9 Gen3 Sporter Plus 17" from Just Right Carbines, the German Hera Arms The 9er Sport C, the Swiss SPC A-2 carbines from GWM & H AG, the German Schmeisser AR15-9 S4F and AR15-9 Sport L, the German Oberland Arms OA-15 BL M9 and OA-15 BL M9 Short in 9mm Luger or the new CZ Scorpion EVO 3 S1.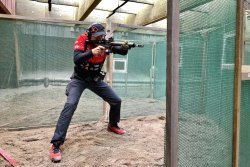 This illustrious circle is now joined by US specialist Quarter Circle 10 (QC10) with its "out of the box" competition-ready models. And they have it all: German PCC runner-up Stephan Lehmann used the QC10 Euro-Racer model presented here in the competition. The reigning German PCC champion Sascha Back also relies on a QC10 carbine in the form of the 3G-TEC 9 model.

Although the successes of the Pistol Caliber Carbine shooters with the Quarter Circle 10 models speak for themselves, we did not miss the opportunity to lay our hands on the Euro-Racer ourselves and examine the QC10 carbine in detail.


QC10: the name has its origins as a Texan cattle branding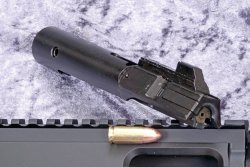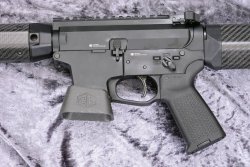 The unusual name QC10 can be traced back to a brand of the Texan cattle rancher George Washington Saunders. He was the great-great-grandfather of QC10 founder and owner Bettina Jary-Mathis, who still brands cattle with this mark on the family ranch. QC10 is headquartered in Dripping Springs, Texas, but gun production takes place in Tucson, Arizona.

QC10 is also very active on the other side of the pond as a supporter and sponsor of PCC matches, with a particular focus on promoting young and female shooters. In direct interactions with the company's boss and staff, one can sense the passion with which the QC10 team cares about in-house match firearms and the dynamic sport of competition.
A pistol caliber carbine on AR Platform: the QC10 line-up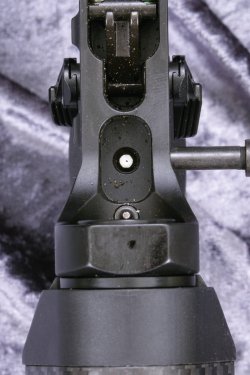 Basically, the QC10 pistol caliber carbines are blowback-operated guns based on the AR platform. But the variety of models offered by the US company is impressive. In addition to main components such as upper and lower receivers, barrels and much more, the company offers 22 different AR pistols and carbines in 9mm Luger, .40 S&W and .45 Auto calibers, which are available as rear chargers (with a classic T-shaped charging handle at the rear of the upper receiver) or side chargers (with a side charging handle) and for use with magazines from Colt (SMG), GLOCK, Heckler & Koch (MP5) or SIG Sauer (P226).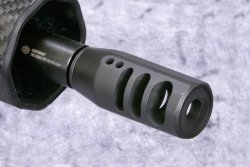 German importer Sven Schlegel of 3G Sports GmbH offers a select QC10 lineup of 9mm models. From the 3G Sports catalog, we chose the QC10 model Euro-Racer. 
Brownells Germany also kindly supported us by supplying a Brownells mount, a Geissele 1-6x26 scope, and three Magpul PMAG 10 GL9 magazines so that we could upgrade our test rifle.

QC10 Euro-Racer: the pistol carbine in detail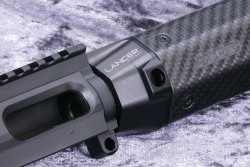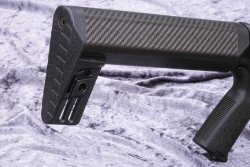 The 7075-T6 aluminum lower and upper receivers are of QC10's own manufacture, with our "lower" being designed to accept GLOCK magazines. The receivers fit together very well, and the existing play was eliminated with a tolerance compensation system, which is located under the take down pin. A device that is now found in many manufacturers.

The blowback bolt with its recoil spring-buffer weight assembly can be adjusted by tuning the weights, so that fine-tuning can be made here with regard to the ammunition used and the individual preferred firing behavior of the carbine. On the muzzle of the 16"/410 mm long barrel with feed ramp tuned to 9mm ammo and resistant hard coating sits a titanium alloy compensator with three expansion chambers, which also helps to reduce recoil and climb to a minimum.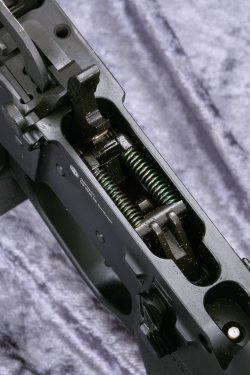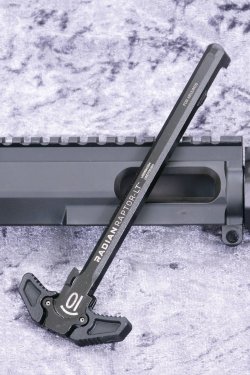 When selecting magazines, problems may arise with the bolt being locked in its rear position by the bolt catch lever after the last shot ("Last Round Bolt Hold Open on Empty"; LRBHO). This is due to the different design of the magazines in detail, with differing follower positions and spring strengths. In practice, we used original GLOCK magazines and Magpul PMAG magazines with a 10-round capacity. 

Due to the more reliable bolt catch lever operation, we relied only on the Austrian originals in further testing. However, the lever operation can be quickly adapted to different magazines. In terms of pure functional reliability during shooting, neither magazine make showed any weaknesses.

Because our test gun was equipped with a 3G Sports polymer magwell, which appears to have come from a high-quality industrial 3D printer, we gave the GLOCK magazines corresponding polymer floor plates, which we made using our own modest 3D printer.Feinste Zutaten: Ausstattung des QC10 Euro-Racer Karabiners.

Finest ingredients: the equipment of the QC10 Euro-Racer Carbine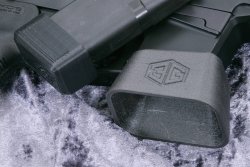 The complete equipment of the carbine is impressive. At first glance, the striking add-on parts in the form of the carbon fiber fixed stock and octagonal handguard from the US company Lancer Systems stand out. These components not only look good, but also impress with their minimal weight, robustness, heat resistance and, above all, ease of handling.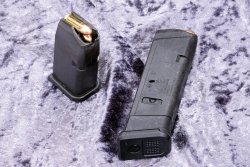 Compared to the angular aluminum handguards with KeyMod or M-LOK mounting systems, rounded handguards are more comfortable in the hand, especially in continuous use and on long shooting days with many hundreds of rounds, and do not lead as quickly to fatigue of the human gripping tools.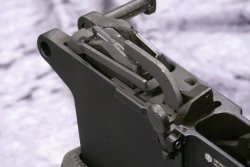 The "Hiperfire Hipertouch Reflex" trigger unit used in the lower is also first-class. Thanks to its design, the single-stage trigger with curved blade reduces friction with its double coil spring and also increases the hammer strike power by up to 35 percent compared to a standard Mil-Spec trigger. The trigger weight can be adjusted within a range of about 1130 to 1590 grams, and the trigger on our test gun broke cleanly and crisply at a measured 1250 grams without any modifications by us.

A very short reset travel is also a feature of the "Hiperfire Hipertouch Reflex" trigger, which is of course ideal for dynamic shooting. An ambidextrous Radian Talon charging handle, an ambidextrous Radian Talon 45-degree safety, and a free-standing Magpul MOE pistol grip successfully round out the match carbine's features.

With the Quarter Circle 10 Euro-Racer on the shooting range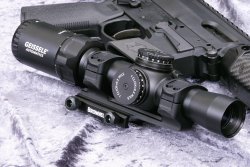 The Geissele Automatics LLC Super Precision 1-6x26 riflescope with a 30-millimeter main tube diameter and illuminated DMRR-1 reticle was designed specifically for the AR platform and provided valuable service on our match carbine. We combined it with the rugged Brownells 30 mm AR mount, which positions the scope further forward so you always have plenty of eye relief, even with unorthodox shooting positions and firing styles.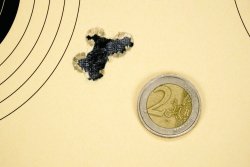 Ten factory ammo load were used. The best three groupings each differ by only a single millimeter: 15 mm (GECO 124 grains Hexagon), 16 mm (Magtech 115 grains JHP), 17 mm (GECO DTX FMJ). Fast shot series in dynamic drills were a lot of fun thanks to the top equipment with the "Hiperfire Hipertouch Reflex" trigger and the shooting behavior left nothing to be desired also thanks to the effectively working compensator. 

In the test, not a single malfunction was detected despite a wide variety of bullet weights and types. In addition, if you want to use subsonic ammunition with particularly heavy bullets, for example, you can adjust the recoil spring-buffer assembly accordingly.

QC10 Euro-Racer 9 mm pistol caliber carbine: specs and price

| | |
| --- | --- |
| Model:  | QC10 Euro-Racer  |
| Operating System:  | Blowback |
| Barrel:  | 16"/410 mm long with weight and vibration optimized contour, 1-10" twist and titanium compensator |
| Stock: | Lancer Systems fixed carbon fiber stock, free-standing plastic Magpul MOE pistol grip and Lancer Systems octagonal carbon fiber handguard |
| Magazine:  | Fed with GLOCK magazines, 1x Magpul PMAG magazine included. |
| Trigger: | "Hiperfire Hipertouch Reflex" match trigger, measured trigger weight: 1250 grams |
| Safety: | Hera MPSS 45-degree safety on both sides of the grip, acting on the trigger |
| Overall Length:  | 35"/89 cm |
| Weight: | 6.5 lb/2950 grams |
| Price: | 2690 euro (German price – price may vary in your country) |
Our conclusion on the Quarter Circle 10 Euro-Racer pistol caliber carbine

Undoubtedly, the Quarter Circle 10 Euro-Racer carbine presented here is not a cheap treat, but it is worth every cent. "Out of the box" it offers all the design and features that distinguish a modern 9mm semi-automatic PCC for training and competition. Workmanship, handling, operation and shooting performance are absolutely convincing, so that the price of 2690 euros is absolutely justified in our opinion.

---
Text: Stefan Perey / Michael Fischer

More information about Quarter Circle 10 pistol caliber carbines can be found on the Texan manufacturer's website.