Article also available in other languages
Flamboyant Italian gun engineer Leonardo Penna is at it again! After gaining a certain degree of notoriety in Italy in the mid-2000s for his proprietary 7mm high-velocity small-caliber chambering for a line of 1911-based sporting, service and defensive pistols − featuring astounding muzzle velocity and energy levels, extreme energy transfer levels and incredible armor-piercing and stopping power performances − undeterred by the current globally negative economic situation, Eng. Penna looks ahead to relaunch his own Q.S. Penna S.r.l. manufacturing firm through a new line of AR15-based rifles and carbines for civilian shooters, military forces and Police operators. Dubbed the PWS M7 (PWS standing for "Penna Weapon System"), the new family of weapons is due to be launched in mass on the Italian market very shortly  − retailers are actually receiving the first samples just as we write! − while exports will come according to global response.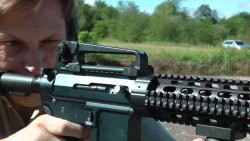 With the American national market absorbing most of the locally-manufactured modern sporting rifles, and with ITAR regulations restricting the export of US-made military-style civilian guns, there's definitely a market, in Europe and elsewhere, for locally-made Black Rifles. And the PWS M7 is definitely made to appeal: upper and lower receivers are machined out of a solid 7075-T6 aluminium alloy billet; tactical furniture (pistol grip, collapsing stock, handguard) is available in a plethora of alternatives; the carrying handle is mounted over a MIL-STD-1913 "Picatinny" rail, making the gun optics-ready; the PWS M7 features the standard AR-15 controls configurations, except for the cocking handle, which is double: a standard AR-15 type cocking handle is coupled by a race-type, side-mounted handle, a design that many shooters find more comfortable to handle, more solid, overall more practical.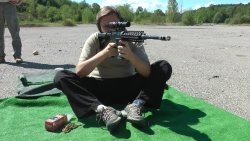 The PWS M7 will be made available with three different barrel lenghts from factory, although custom orders with different barrel lenghts will also be possible. Barrels for the early samples will be made in the Czech Republic: for the future, the company is planning to use Czech, British or Italian-made barrels, depending from versions, configurations, and availability. Another key feature available on the PWS M7 will be the proprietary, extremely effective XCS compensator. The PWS M7 will be offered in four calibers: .223-Remington (5.56x45mm NATO), .300-AAC "Blackout" and two Penna proprietary 7mm chamberings − 7x44mm and 7mmPenna-K. All variants will be available in both semi-automatic versions for civilian shooters and full-automatic/select-fire versions for military and Police customers. Italian shooters can look ahead to have them available in the next couple of days, for a price that will reach over 1000€ (and up) per sample. International customers will just have to cross their fingers...