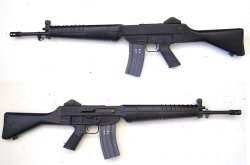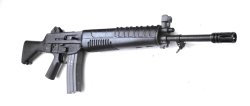 An impossible dream for all gun enthusiasts and collectors worldwide since forever, traceable in small and highly priced quantities of totally deactivated samples as of today, the CIS SAR-80 assault rifle is finally available in a civilian-legal, demilitarized semi-automatic variant thanks to the Nuova Jager S.r.l. company, headquartered in the northern Italian town of Basaluzzo. The Nuova Jager company imported several samples of full-automatic SAR-80 rifles from obsolescent military stocks of some neighboring Countries, and modified them so that they could only fire in semi-automatic mode and could no longer be restored to select-fire operation.
Engineered in Great Britain by Sterling Armaments as an evolution of the Armalite AR-18 rifle system, the SAR-80 assault rifle was manufactured by the Chartered Industries of Singapore (currently known as ST Kinetics) in the early 1980s, but never became the standard rifle of the Singaporean Armed Forces despite some small export success − with lots ending up even in Croatia and Slovenia.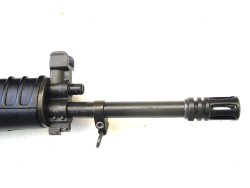 The Nuova Jager's SAR-80 rifles are a global exclusive: no other Country in the world has semi-automatic SAR-80 rifles available to civilian buyers in their commercial market.
Engineered as an infantry rifle at a time when the widespread availability of accessories was still to come and there was no word on "modularity", the SAR-80 is vastly manufacured out of stamped steel − except for a polymer fixed buttstock, pistol grip, and futuristic-designed two-halves handguard.

The front post sight of the SAR-80 is protected on both sides and is fixed; the rear sight, likewise protected, can be adjusted to engage targets on various distances. The SAR-80 also features an optics rail on the top cover, right in front of the rear sight, though somewhat "primitive" as it could be defined by our modern standards based on Picatinny rails and quick-throw mounts.
The SAR-80 feeds through STANAG magazines, and fires standard 5,56x45mm/.223 Remington ammunition. Each SAR-80 rifle is issued with a cutdown AR-15 magazine, limited to five rounds, but will accept any AR-15 compatible magazine available on the market today.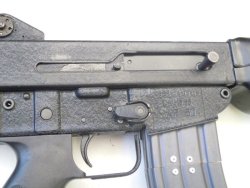 Other features of the SAR-80 rifles include intuitive and simple controls (a cocking handle directly attached to the sliding ejection port cover, a wide magazine release button on the right side of the lower receiver and a safety switch on the left, right over the pistol grip), and an AR-18 type indirect gas impingment, short-stroke piston system.

Clean and adjustable, the SAR-80 piston system will ensure a reliable cycle on any and all commercial .223/5,56mm loads currently available, while at the same time retain all the intrinsic accuracy of this platform − which is definitely high, thanks to the factory-new, full-length, chrome-lined barrels with "Birdcage"-style flash hider.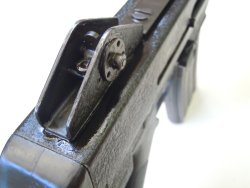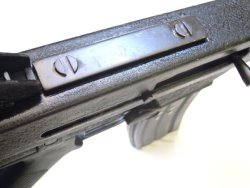 As a matter of fact, most of Nuova Jager's SAR-80 semi-automatic rifles are completely unfired, and all factory tests returned surprisingly high levels of accuracy.
Aside of the demilitarization procedures that were necessary to remove any full-automatic firing capability, the SAR-80 semi-automatic rifles were not modified by the Nuova Jager company in any way, shape or form from their original configuration.
They're all brand new and still in their factory configuration − which, in our opinion, makes them even more desirable from a collector's point of view.
The company still has "several dozens" of them available, at a retail price of €1.450,00 − which is more than fair, considered the historical and collector's value of such a rare rifle.
As of today, Nuova Jager only sells the SAR-80 semi-automatic rifle on the Italian civilian market. The company, however, is capable and available to handle export towards any Country where such a rifle would be civilian-legal.