The AR15 GM 7.5" manufactured by Nuova Jager (also known as NJ Arms) is chambered in 9mm (aka 9 Luger or 9 Para) as well as 9x21mm calibers. The first impression upon seeing the carbine – which uses the same magazines from our Glock pistols – was very satisfactory.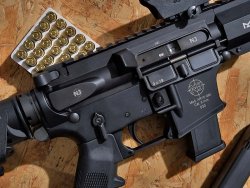 Mounting the QD sling on the gun (special attachment points are present on both the handguard and under the stock tube), we could appreciate how details are designed for operational use. When carried the gun remains close to the body, it is easy to shoulder, and given its small size it allows for easy handling even in training exercises in confined quarters.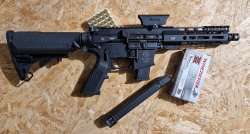 An aspect not to be underestimated, this weapon system is an excellent and inexpensive solution for sport/professional training with AR-15 platforms, 9mm ammo being certainly less expensive than the more powerful and expensive calibers these weapon systems are usually chambered for.
Nuova Jager AR15 GM: technical features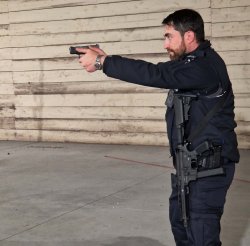 The barrel of the AR15 GM is 7.5 inches (19.05 cm) long; it is cold-hammer forged with a 1/10" twist. The 1/2x28  muzzle thread allows a wide variety of flash hiders and compensators to be mounted. As standard, the AR 15 GM mounts a bird cage flash hider, but the gun we tested was a four-port type. The dimensions of the platform are very small, in fact measuring just over 50 centimeters in length.
The carbine is named GM, which stands for "Glock Magazine," since it can use any double-stack Glock pistol magazine, whether original or not.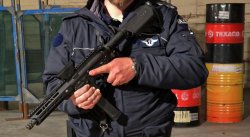 The stocks that can be used on the 9mm AR15 GM are all those compatible with M4-type platforms, and on this weapon we find a six-position telescoping stock featuring a CAA- or IMI-manufactured cheek rest. During testing, we found that if tactical or ballistic vests are not worn, the length of the stock itself may be slightly short for medium/large build users. The pistol grip is a standard type.
Upper and lower receivers are made from aircraft aluminum (7075T6), with a matte black hard anodized finish, 35/40 micron thick. The handguard is aluminum (6061T6), also 'finished with a matte black anodization, and on it there are M-Lok slots.
The stock buffer tube and trigger assembly are Mil-Spec.
As standard the gun has no sights, but thanks to the long Picatinny rail that runs from the charging handle up to the muzzle any type of sights, whether iron or optical, can be fitted to the AR15 GM.
Given the relatively low power of the cartridge used, the carbine uses a simple blowback operating system. The 9mm AR15 GM has a classic AR-15 manual safety selector, which is ambidextrous, easily accessible and correctly sized.
Test-firing the 9mm AR15 GM
The carbine is easy to use and was fun during the stages: it is very stable during fire drills and we did not detect any problems.
We used factory Winchester 9x19 Luger ammunition with 123-grain FMJ bullet, achieving excellent groups even when fast firing. Muzzle flip is nil, the trigger proved to be good.
We also did some shooting on the 50-m and 100-m lines, hitting the targets safely even with a simple red dot like the one we mounted for our test, a Burris Fastfire III. In conclusion, the Nuova Jager AR 15 GM is a fun to use and extremely easy to handle, which also makes it attractive for possible operational use. Thanks to its 9mm chambering, it is also inexpensive to feed and allows for long training sessions without taking out a mortgage, which is one of the main reasons why PCCs (Pistol Caliber Carbines) are becoming so successful. Finally, the price is reasonable. The Nuova Jager 9mm AR 15 GM 7, 5" barrel has an Italian list price of €1,556, but you can find it for less.
Nuova Jager AR15 GM specs and price
| | |
| --- | --- |
| Manufacturer: | Nuova Jaeger (Italy) |
| Caliber: | 9mm (9x19) or 9x21 |
| Barrel Length: | 7.5"/190.5 mm |
| Barrel Twist: | 1:10 RH |
| Operating System: | Blowback |
| Safety: | Ambidextrous, manual |
| Frame Material: | 7075T6 aluminum  |
| Magazine Capacity: | 20 rounds |
| Stock: | M4 compatible |
| Trigger: | Single action |
| Sights: | None, Picatinny rail |
| Price (List Price in Italy): | 1,556 euro |