Noveske is a US company based in Grants Pass, Oregon, once the land of explorers and gold seekers. Today things have changed a bit, but the indomitable spirit hasn't, and there Noveske builds black rifles of excellent level and in different calibers, from the classic .223 Remington to the .300 Blackout, as well as in 9mm. And it is in this pistol caliber that we have chosen to exemplify Noveske's construction philosophy.
Noveske N81 Space Baby Pistol in 9mm caliber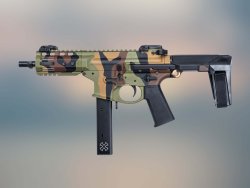 The gun is original right from the name, N81 "Space Baby". This is a semi-automatic pistol caliber carbine built on an AR-15 style receiver that externally replicates the control layout and general feel of the black rifle par excellence. Inside there are some differences, since the operating system here is a simple blowback action. On the receiver we find many ambidextrous controls: the magazine release, the fire selector that acts as a safety and the bolt release. In addition, we find a centrally positioned additional paddle release for the magazine,. The Noveske Space Baby Pistol features quality components, such as the charging handle that is a Geissele Super Badass Airborne, or the pistol grip – a Magpul MOE-K. Even the trigger group is particularly well cared for: it is in fact an element of the MCX series, also manufactured by Geissele. The 32-round double-stack magazine, with custom laser engraving, is Noveske-made.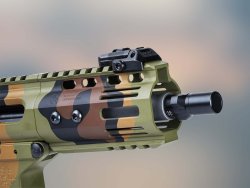 Thanks to its brace stock. this gun is classified as a pistol in the USA. Furniture is AR-15 type with a short fully floating handguard featuring M-Lok slots and a Picatinny rail at six o'clock. On top of the upper part receiver we find another Picatinny rail, which extends up to the protruding section of the barrel, allowing the mounting of any kind of iron, optical or electronic sights. The gun comes standard with a set of Magpul MBUS Pro iron sights that can be easily folded down to reduce size.
Chambered in 9mm Luger caliber, the barrel of the Noveske Space Baby Pistol measures 5.5 inches, or 14 centimeters, and is available with either a threaded muzzle or a three-lug quick detachment suppressor mount (where allowed).
The N81 Space Baby Pistol is available with a Cerakote camo finish whose component colors are suggestively named as Tiger Eye Brown, Bazooka Green, Graphite Black and Multicam Dark Brown.
The price of the Noveske N81 Space Baby Pistol is about $3200 (about 2700 euros) and as much as it may seem steepy, evidently for US enthusiasts it is not, since the first batch made was sold out in a very short time and now we are waiting for the second edition. Surely this is a type of gun that in the USA at this time everyone wants – even if you have to cough up a nice amount of bucks.

N81 Space Baby Pistol specs and price

| | |
| --- | --- |
| Manufacturer: | Noveske, USA |
| Model: | N81 Space Baby Pistol |
| Caliber: | 9mm Luger |
| Action: | Blowback |
| Operation: | Semi-automatic |
| Barrel Length: | 5.5"/14 cm |
| Magazine Capacity: | 32 rounds |
| Sights: | Magpul MBUS Pro. |
| Weight: | 9.5 lb/4.3 kg approx.  |
| Price (in the US):  | 3195 USD |