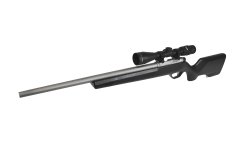 THALES Australia Limited trading as Lithgow Arms
Life isn't what it used to be for shooters and gun enthusiasts in Australia: in 1987, 1996 and 2002, draconian gun laws were introduced banning and confiscating several types of firearms from private ownership, scapegoating thousands of honest citizens for the horrible crimes of a handful of madmen, and leaving Australians defenceless against a rampant surge of crime. The decline of Australian gun industry had however started long before that, with the Lithgow Small Arms Factory in New South Wales stopping the manufacture of civilian-grade small arms some forty years prior to focus on military-grade arms and equipment. Now, the Lithgow brand returns to the civilian arms market under a "new management": following an agreement between Winchester Australia and THALES Australia Ltd. − a global technology leader for the defence & security and the aerospace & transport markets, and the new owners of the Lithgow facilities − a new bolt-action rifle conceived for hunting and sports shooting purposes, 100% Australian-made and 100% Australia legal, is soon to hit the market. The LA-101 "CrossOver" debuted at the 2013 Shot Expo in Melbourne, with feedback welcome from the Australian shooting community before production commences.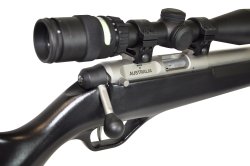 THALES Australia Limited trading as Lithgow Arms
Building on more than a century of military manufacturing expertise in Lithgow, the Australian-made LA-101 "CrossOver" is a hunting / target rifle with modern tactical styling, high accuracy and reliability.
It will initially be offered in .22 Long Rifle, .22 Winchester Magnum Rimfire and .17 Hornady Magnum Rimfire calibres, and will feature a detachable magazine, a wider fore-end and more vertical handgrip for stable bipod or bench use, a heavy barrel for stability, accuracy and slow heat build-up, plus rapid and smooth bolt operation with triple-lug 60-degree locking. Centrefire variants in .223-Remington and .308-Winchester calibers will follow. The stock will include an integral moulded trigger guard and butt hook for improved prone hold, and will be made from the same injection moulded nylon as THALES Australia's new AuSteyr-based EF88 rifle currently being developed for the Australian Defence Force, as well as the F90 export variant.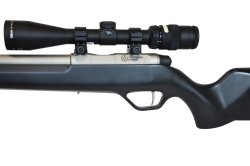 THALES Australia Limited trading as Lithgow Arms
The LA-101 "CrossOver" barrel will have a proprietary semi match chamber for improved accuracy with a wide variety of ammunition. Each military grade steel barrel will be cold forged, manufactured on the same machine at Lithgow that makes barrels for the ADF's AuSteyr rifles and ensures their outstanding accuracy – the only such machine in the southern hemisphere.
«We're building on our proud military heritage to offer a new Australian rifle specifically for Australian customers», said Chris Jenkins, CEO for THALES Australia.
«We've been asked about this idea for many years, and decided it's now time to meet the demand for a competitively priced, locally made rifle. There is definitely a place in the market for a product like this, and we believe customers will appreciate owning a rifle made at Lithgow, with all its heritage and storied place in Australian military history».

Spawning from a strong heritage and culture that still proudly refuses to give in to anti-gun policies, the Lithgow Arms LA-101 "CrossOver" bolt-action rifle will be distributed in Australia and New Zealand through Winchester Australia starting 4th quarter, 2013. Global distribution will have to wait at least until mid-to-late 2014. No informations have yet been given concerning a suggested retail price.