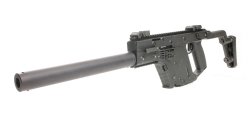 KRISS SYSTEMS S.A., the Swiss-based global leader in firearms innovation, known for the manufacture and distribution of the revolutionary Vector SMG as well as of the Sphinx series of handguns and Defiance series of silencers, made sensation at the 2013 SHOT Show when announcement was made that a rimfire version of the Vector CRB-SO sporting-purpose semi-automatic carbine is in the works and almost ready for full-scale serial manufacture and worldwide distribution.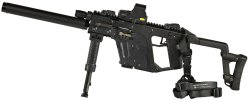 With the post-Newtown market hype leading to a steep rise in ammunition pricing, particularly as far as it concerns high calibers such as .45 ACP, rimfire shooters will remain able to maintain their shooting skills without going broke; furthermore, martial-lookalike rimfire firearms don't suffer from law restrictions in strictly gun-controlled legislations such as the United Kingdom. A .22 Long Rifle variant of the Vector CRB-SO carbine, featuring the same cosmetic design and configuration controls as the original .45 caliber version yet employing a different bolt system to reliably feed and cycle most, if not all, commercial .22 Long Rifle ammunition available, will surely take advantage of the affordable prices of this quintessential sporting cartridge to offer leisure and competition shooters hours of cheap fun at the range,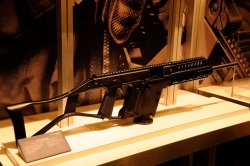 The Vector CRB .22 semi-automatic rimfire carbine is only one of the civilian-grade new products announced by the KRISS Arms Group at the 2013 SHOT Show, the others being the K-10 long-barrel Multicaliber Carbine and short-barrel K-10 SBR in 9x19mm, 9x21mm-IMI, .40 Smith & Wesson and .45 ACP − civilian counterparts of the soon-to-be-launched K-10 sub-machinegun, a rationalized evolution of the Vector SMG. The market launch of these products, including the Vector CRB .22, is slated for 4th quarter 2013. Pricing and other details concerning the commercial availability are yet to be announced so far. All interested shooters are kindly urged to keep an eye on the Company website as well as on ALL4SHOOTERS.COM to keep up-to-date with the evolution of the new line of KRISS Arms sporting carbines.