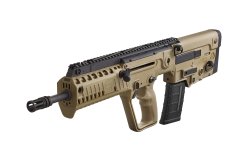 New from this year from the north-American branch of the Israel Weapon Industries company, the civilian-grade, semiautomatic X95 bull-pup rifle emulates all the familiar features of the already popular Tavor line, albeit with several improvements.
The X95 rifle incorporates a tri-rail handguard protected by removable polymer vented covers, a modular trigger guard allowing the pistol grip to be configured from a Tavor-style large handguard design to a more traditional style, and a relocated and more convenient magazine release catch and charging handle.
Chambered for the 5,56x45mm/.223 Remington round, featuring a 16-inch cold-hammer forged barrel and feeding through standard AR-15 magazines, the X95 magazine will soon be available in the U.S. at an MSRP of $1,990.00; 9mm straight blowback and .300-AAC "Blackout" conversion kits will also be made available at $449.00 and $889.00 respectively.