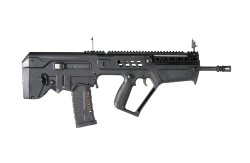 The US-based subsidiary of the Israel Weapon Industries (IWI) company launched a new variant of the popular Tavor SAR bull-pup semiautomatic rifle, this time chambered in the .300-AAC "Blackout" caliber – a highly sought-after option especially in the United States, being a highly accurate, soft shooting round that is also a very effective, particularly in hunting situations, as well as easily suppressible in both its supersonic and subsonic loads in those guns (like the Tavor SAR) that feature a user-adjustable gas regulator.
All of the Tavor SAR's parts are MIL-STD and 100% interchangeable. The 16.5" or 18" .300-AAC "Blackout" barrel is cold-hammer forged and chrome lined, made from CrMoV steel. The long-stroke gas piston system is also 100% ambidextrous in configuration and operation with an optional opposite hand bolt, and a simple field stripping is all that is needed to quickly and easily break down the Tavor SAR  into two major serviceable subassemblies. The suggested retail price for the Tavor SAR rifle in .300-AAC "Blackout" caliber for the United States is set at $2,049.00.
A .300-AAC "Blackout" caliber conversion kit will also be made available for existing 5,56mm/.223 caliber Tavor SAR rifles, including a 16.5" or 18" CrMoV steel cold hammer forged, chrome lined barrel with a 1:7 right hand twist and an A2-style flash suppressor, a headspaced bolt and a barrel wrench. The retail price for the conversion kit in the U.S. is set at $499.00.