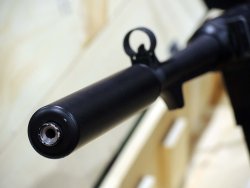 The GSG - German Sport Guns GmbH firm is a small yet dynamic company that made itself known worldwide over the past decade or so with the launch of a wide array of rimfire pistols and carbines based upon several well-known military firearms. Included in its product line are the GSG-522 pistols and carbines, based upon the HK MP5 sub-machinegun design; the GSG-AK47 rifles; the GSG-1911 and GSG-9 handguns; and, more recently, an historic replica, the GSG-Mp44. All GSG guns are semi-automatic only, locked-breech sporting arms chambered exclusively in the .22 Long Rifle rimfire caliber, to provide hours of inexpensive and fun plinking and training to shooters worldwide. GSG firearms are mostly built out of steel stampings and polymer, and are engineered through an in-depth study of the military arms they're patterned after, so to preserve a realistic look and feel for the joy of all sportsmen.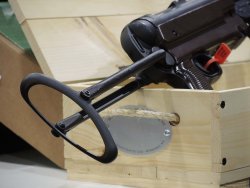 Latest news from GSG - German Sport Guns GmbH, made public at the 2013 SHOT Show in Las Vegas (NV, USA), is the imminent introduction of a new semi-automatic rimfire carbine, dubbed the GSG-Mp40, which is cosmetically patterned after the so-called "Schmeisser" sub-machinegun used by the German Wehrmacht during World War II. Much like all other GSG products ‒ and like the original firearm ‒ the GSG-Mp40 semi-automatic carbine will be mostly built out of steel and plastic, with modern high-impact polymers replacing the original bakelite used for the pistol grip panels and the lower receiver housing.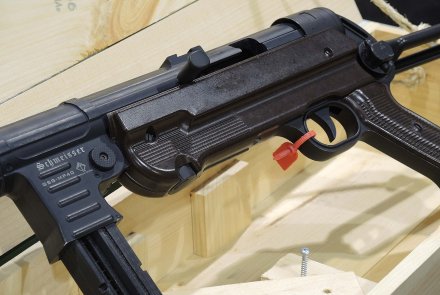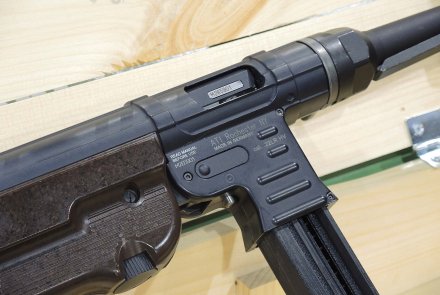 The GSG-Mp40 will feed through a single-stack, removable magazine which will hold two, five, ten or twenty-five rounds of .22 Long Rifle ammunition; these low-capacity mags will be manufactured to comply with German law requirements concerning ammunition capacity of guns used during hunting battues. It will also feature an original "Mp40-Style" underfolding steel sheet stock, while two different barrel lenghts will be available: a "Standard" version will feature a 251mm barrel for sales in Europe and in the United States as an SBR; an "American" version will feature a lenghtened barrel, with the end masked as a fake, uneffective silencer, in order to match the 16-inch minimum barrel lenght which will make it a Title I firearm, legal to trade and possess without NFA paperwork.
This video has been hidden because of an external service (YouTube) that could potentially collect personal data.Allow video services for the duration of the visitAllow video servicesStop allowing video services
The GSG-Mp40 was first showcased in prototype form at the 2012 SHOT Show; the variant seen this year was the final version, and a distributor for the United States has already been appointed, this being ATI - American Tactical Imports Inc., out of Rochester (NY). Distribution is not slated to start before early 2014; each single GSG-Mp40 will be sold in a wooden crate hand-made in Amish communities in the United States. Further informations are slated to be given next March during the IWA expo in Nuremberg, Germany.