Founded in 1999 in Sweden, FX Airguns is a company that manufactures high-end airguns, distinguished from the beginning by original and bold choices, such as the bull-pup construction, which have created real trends. Over the years, the Swedish company's reputation has been established, and today FX Airguns is a solid player in the effervescent PCP market. It should not be forgotten that in a great many countries, airguns can be used for varmint and pest control, as well as for informal shooting in open spaces, so they are extremely popular, even in full-power versions.
The FX Airguns Wildcat MkIII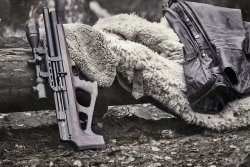 FX airguns are handcrafted by a team of more than 50 craftsmen and engineers who have honed their skills to perfection. An FX-marked air rifle will not leave the factory until it has been thoroughly tested. FX air rifles offer superior accuracy, reliable consistency, as well as being remarkably quiet, efficient and extremely powerful.
The FX Airguns brand has several models of PCP rifles in its catalog, both with traditional stocks, such as the Typhoon or the Royale, and in bullpup configuration such as the one we are dealing with in these lines.
The FX Airguns Wildcat Mk.III pre-compressed air rifle is available in four calibers: from the classic 4.5 mm (,177) to 7.62 mm (.30), through 5.5 (.22) and 6.35 mm (.25). It should be immediately made clear that in the Wildcat model, power is brought to the highest levels made possible by current technology.
Among the features shared by all Wildcat MkIII models regardless of caliber we find a match trigger, 230 cc capacity air tank made of carbon fiber, 500-mm long shrouded barrel, thumbhole type polymer stock with adjustable rubber recoil pad, spring loaded magazine, manual safety, integrated Picatinny rails. Weight is 2,800 grams, while overall length is only 670 mm. The rifle is equipped with an effective and easy-to-operate dual AMP regulator located at the rear of the gun. The magazine capacity is 22 rounds in 4.5 mm caliber, 18 in 5.5 mm, 16 in 6.35 mm and 13 rounds in the 7.62 mm caliber version.
The particular bullpup design of the rifle, which is extremely compact, in conjunction with the thumbhole stock makes the FX Wildcat MkIII incredibly easy to swing, as well as very stable in supported shooting.
About pellet energy: it ranges from 27 j measured at the muzzle for the 4.5 mm (.177) caliber version up to a remarkable 95 joules for the 7.62mm (.30) caliber version. 

FX Airguns Wildcat MkIII specs

| | |
| --- | --- |
| Manufacturer: | FX Airguns |
| Model: | FX Wildcat MkIII |
| Calibers: | 4.5 mm (.177), 5.5 (.22), 6.35 mm (.25), 7.62 mm (.30)  |
| Type: | PCP air rifle, 300 Bar with bottle regulator |
| Magazine Capacity:  | 13 to 22 rounds depending on caliber |
| Overall Length:  | 26.3"/670 mm |
| Barrel Length:  | 19.6"/500 mm |
| Weight:  | 98.7 oz/2,800 kg |
| Stock:  | Polymer, thumbhole with adjustable recoil pad |
| Trigger: | Adjustable |
| Sights: | None, optics rail |