Necessity is the mother of invention: in order to circumvent the limitations imposed in some American states on rifles derived from military designs, Fightlite of Melbourne, Florida, developed a special version of the AR-15 with a walnut stock featuring very traditional lines, called SCR – which stands for Sport Configurable Rifle. The aesthetic effect is a bit off-putting but also curious.
A "Brown Rifle" 
If the modern AR-15 has deserved the nickname of "Black Rifle" thanks to its night-black livery, then the SCR could be called a "Brown Rifle" for its aesthetics dominated by brown wood. Certainly, the effect is disorienting and the less young among our readers will be reminded of the Jager AP 74, a .22 or 7.65 caliber carbine that imitated the features of the M-16 even if fitted with a wooden stock.
Available in different barrel lengths and calibers, the SCR carbine features a classic stock, in either solid walnut or laminated, and with a choice of a more traditional (but still quite curious) wooden fore-end or a fully floating aluminum handguard with M-Lok accessory interface. The basic caliber is the .223 Remington, but barrels and magazines are available for all calibers compatible with the AR 15 action, including .300 BLK, 7.62x39, .458 SOCOM, 6.5 Grendel and others, with the possibility to easily convert the carbine from one caliber to another.
The carbine has a MIL-STD 1913 flat top upper receiver that allows the mounting of conventional optics, red dots, night vision and thermal devices.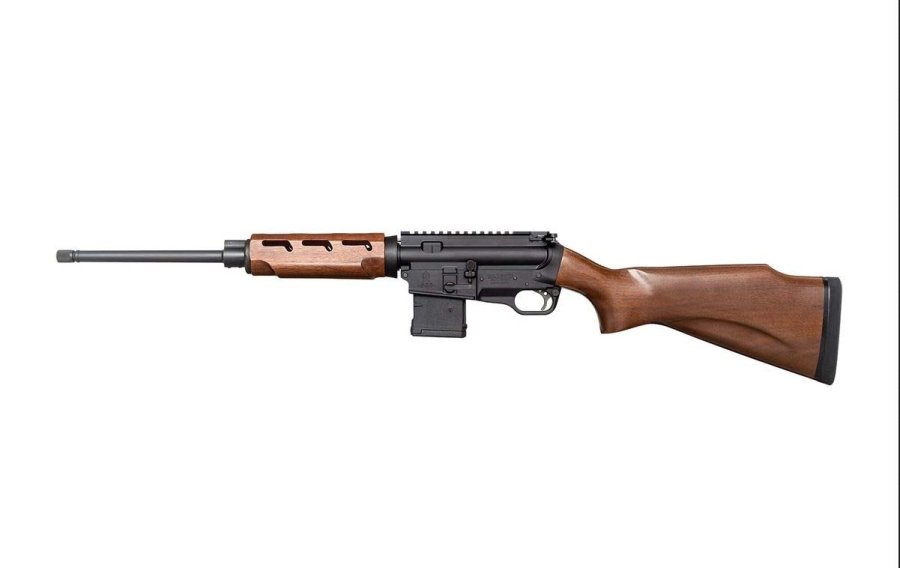 Its modular, multi-caliber arrangement allows users to instantly change calibers in the field by simply pressing two pins and swapping the upper receiver for one in a different caliber. The FightLite SCR accepts most parts and accessories from modern AR15-based sporting rifles.
The SCR carbine is a product created to be sold on a very specific market and rather far from our tastes. We will hardly see it in Europe, but the sense of a SHOT Show article is also to show our readers firearms that, for one reason or another, probably we will never see in real life. In any case, Fightlite offers more conventional guns too, as you can see by visiting the manufacturer's website.
---
Find all the news from SHOT Show 2021 on all4shooters/all4hunters.