Some of our readers will probably already know the name Fanzoj: established in 1790 in Ferlach, Austria, the Johann Fanzoj firm represents a tradition of fine craftsmanship upheld for eight generations. Only a small number of exclusive, ultra-customized luxury guns and rifles are manufactured each year, all examples of extreme technical sophistication and high value for the most discerning collectors. Fanzoj's last project, the Dracon rifle, makes no exception.
It could be described as "a fabulous theme executed on a Fanzoj Premium bolt-action rifle in cal. 300WM, embedded in a most exquisite case with details of red lizard leather and finest handmade accessories." But it would not be fully appropriate. Still in the manufacturer's words, it can be more aptly described as "a demonstration of craftsmanship skills and artistic talent". 
Actually, it took more than three years to finalize this project, inspired by the centuries-old cultural fascination on the theme of dragons. Gunsmiths, designers, engravers, goldsmiths, all strived to incorporate into the Dracon breathtaking images of dragons in their different elements earth, water, air and fire, moving over the system parts.
The design and implementation of this complex theme on so many different surfaces and levels involved masterfully deep chiselling and gold or platinum inlay work by master engraver Franz Haas, extremely skilled craftsmen and the creative team, lead by Daniela Fanzoj.
Fanzoj Dracon: platinum, gold, obsidian, ebony and rubies
More in detail, the elaborately engraved skeleton butt plate is shaped as a three-dimensional dragon´s wing, with a sculpted dragon of red gold set into black ebony. All done by hand, of course. A water dragon winds along the barrel, and the "dragon" front sight base originates from a solid, square metal block into which a hole with the outer diameter of the barrel was drilled. 
As for materials, the dragon motifs were cut and shaped by hand from a solid platinum alloy plate 2.5 mm thick, then stably inlet into the underlying metal.  Platinum inlays were also molded into the rifle stock, with the dragon's knobs made from black horn. Obsidian and ruby also convey other symbolic details – images explain better than words.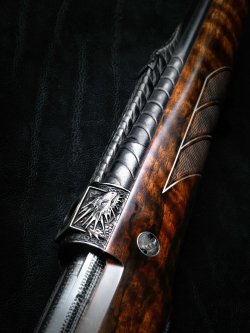 The rifle itself is based on a classic and sturdy Mauser 98 action in .300 WM caliber, with the typical three-position safety and direct trigger. The 25.6" / 65 cm barrel is made from high tensile AMS (Aerospace Material Specification) barrel steel. The custom stock is crafted from top-luxury Circassian walnut burl, featuring a hand-rubbed, mirror-like oil finish. 
The rifle comes with a Swarovski Z6i 2,5-15x44 scope.
The Dracon is also accompanied by a hard-bound book with images illustrating the technical and artistic challenges of its making process.
The price? It's not disclosed, but it will a 6-digit number. At this point, however, it should be abundantly clear that Fanzoj's Dracon rifle can't be considered just a firearm and its value must be determined – and appreciated – accordingly.