Amongst the many exciting new products that we at ALL4SHOOTERS.COM had a chance to see during the 2013 gun trade shows season, one of the hottest and most interesting sure popped out at EXA, the firearms, sporting and outdoors trade fair that takes place every April in the northern-Italian city of Brescia, and that basically closes the season of civilian-oriented trade shows as far as it concerns guns, and definitely is smaller, for both dimensions and importance, than the Las Vegas' SHOT Show or Nuremberg's IWA. Nonetheless, you can never know where you can find the best and hottest new products in this field, and this year, there it was, unexpected and quite interesting.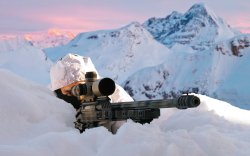 VOERE Präzisiontechnik GmbH
VOERE Präzisionstechnik, GmbH, is a gunmaking company headquartered in the Austrian town of Kufstein that's been active in the field of hunting and sporting rifles and shotguns for over sixty years now. In the past years, VOERE started the manufacture of a line of tactical-purpose and long-range-oriented semi-automatic and bolt-action centerfire rifles, of which the bolt-action LBW definitely represents the best incarnation. A perfect blend of typically industrial tactical features and the pure art of handcraftsmanship for accuracy and precision in construction, the LBW series comprises models specifically made for hunting, sports shooting, or even professional applications − more specifically its use by military and Police snipers. The first ever purely tactical-oriented LBW variant, dubbed the LBW-M, dates back to the early 2000s, and the system was later evolved in the M2 and M3 variants. Now, the Voere company pushes the platform one step beyond.
VOERE Präzisiontechnik GmbH
The X3 modular system, now implemented on the LBW-M2 and LBW-M3 production models, turns Voere's signature tactical rifle into a true modular platform capable to satisfy the needs of all military and law enforcement professionals. The high-speed bolt action with three high-strenght locking lugs and the adjustable, Match-grade trigger and trigger group are all mounted on a machined aluminium chassis featuring an ergonomic pistol grip − which can be replaced with any AR15-type grip − and a side-folding stock that comes with adjustable buttpad, cheekpiece and monopod. The chassis also comes with several MIL-STD-1913 "Picatinny" rails for optics and other tactical accessories, while the magazine, bolt head and barrel can be easily removed and changed, and represents all the user needs to swap, in order to convert the rifle from the standard 7.62x51mm/.308-Winchester caliber to other chamberings, all the way up to .408-CheyTac. The fluted, high-precision barrel itself features a massive, machined muzzle brake that integrates an M18x1 thread for silencers and a flip-up, backup front sight. An ambidextrous manual safety is located right above the pistol grip, at quick thumb reach; the VOERE LBW-M2 and M3/X3 rifles also feature a manual cocking system for further safety. Believe it or not, it can even be converted to fire 12-gauge and 20-gauge shotgun shells, for whatever reason!

The VOERE LBW-M2 and M3 rifles with X3 modular system are all available on both the civilian and Mil/LE markets, as they are sure to appeal both professionals and long-range sport shooters, either competitive or amateurs. The company asks an base manufacturer's suggested retail price of 4800€ in Europe; a really low price tag, if compared with most competitors on the market. Price may of course vary from Country to Country, depending on distributors, retailers, taxes and custom fees. Perspective buyers may want to inquire with their local VOERE importers and distributors; a comprehensive list of VOERE dealers around the world can be found on the company website.