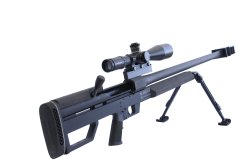 Steyr-Mannlicher GmbH & Co., KG.
There are several Countries in the world where the use of calibers over, and including, the .50-BMG (12.7x99mm) on rifles is forbidden to civilians. Furthermore, even professionals may sometimes find themselves precluded by local limitations or Caveat from the use of said cartridge, which is known worldwide for its extreme range, accuracy and stopping power performances which made it the favorite for heavy machineguns and long-range interdiction rifles worldwide − it is, so to speak, the case of those Law Enforcement agencies operating in jurisdictions and Countries that don't allow Police use of "paramilitary" calibers, or again, the case of military operators deployed in low-intensity peacekeeping operations under strict rules of engagement that may limit or totally forbid the use of certain chamberings. Of course, the request from these users, who had been long time asking for a long-range shooting platform chambered for a caliber that dubbed the performances of the good old .50-BMG while still remaining legal, were too pressing to be ignored any further; and thus, a few years ago, the well-known Steyr-Mannlicher GmbH company − headquartered in the Austrian city of Kleinraming, and one of the most notorious gunmakers of the world, whose most famous product is the AUG assault rifle system − teamed up with the German engineer Heinrich Fortmeier and with the Austrian inventor Horst Grillmayer to come out with a rifle/ammunition combo platform that soon hit the market with a truly loud BANG!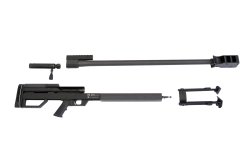 Steyr-Mannlicher GmbH & Co., KG.
Dubbed the HS-.460, this single-shot, bolt-action rifle with a shell-holder type bolt head is based upon Steyr's own .50-caliber sniping system (dubbed the HS-50), and features a 33-inches cold hammer forged fluted barrel with the original hammer stamps, adjustable bi-pod, and a highly efficient muzzle brake, which reduces recoil substantially to increase shooting comfort – all installed on a polymer frame that features an AR15-style pistol grip and houses the two-stages trigger, factory-set to a 4lbs weight but otherwise adjustable by each individual shooter according to his/her needs. The HS-.460 rifle fires the proprietary .460-Steyr ammunition, based upon the 12.7x99mm/.50-BMG caliber but featuring a shorter, necked-down case with a tighter neck, which cause this wonder to reach truly incredible pressure levels − given the fact that the .460-Steyr and .50-BMG share more or less the same propellant quantities − and thus to achieve some of the very best in accuracy, range, penetration and stopping power.

Steyr-Mannlicher GmbH & Co., KG.
The .460-Steyr has very little to envy to the "bigger brother" .50-BMG in terms of performance, and along with other calibers such as the .416-Barrett and .416-TYR, represents a perfect alternative to those sportsmen who would like to compete in extreme long-range sport shooting specialties but can't legally obtain an adequate rifle otherwise. It's not just the case of many European countries, but, so to speak, the case of California and other U.S. States. The Steyr-Mannlicher HS-.460 rifle − which comes with several MIL-STD-1913 "Picatinny" attachment points for optics and other tactical accessories − is available to international military, law enforcement and civilian customers. It aint' cheap, though, and price may vary in different Countries and places. All inquiries should be placed with your local dealers; a list of worldwide Steyr-Mannlicher importers is maintained on the company's website.