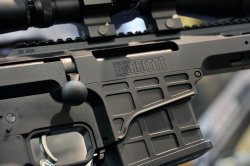 Barrett Manufacturing: a name that alone represents both a legend and a forbidden dream. With many Countries worldwide, including in Europe, posing restrictions to the civilian ownership of .50-caliber rifles, most products from the Barrett Manufacturing Company − the quintessence itself of accuracy and long range in shooting − remained largely available only to military and Law Enforcement personnel; and even in those jurisdictions where these rifles were indeed legal, the high prices didn't help their diffusion, nor did the fact that, pretty much recently, the U.S. Department of State imposted very tight restrictions over the export of .50-caliber firearms. Fact remains, for quite a long time the long-range sports shooters in Europe could only dream of these fine, American-made shooting machines for their matches and competitions... that is, until now. As ALL4SHOOTERS.COM came to know in April at the EXA expo in Brescia (Italy), Barrett Manufacturing is now cleared to start mass distribution in Europe of two great, highly successful rifles.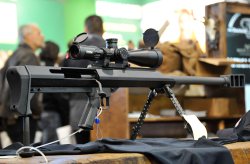 First, and definitely most appealing, is the model 98B, also known as the "98-Bravo". Originally conceived as a long-range rifle for the U.S. Special Forces, its export was unauthorized by the U.S. Department of States until recently, when Barrett developed a more specialized version of the 98-Bravo, known as the MRAD, solely for the military and LE market, and the 98-Bravo itself came subsequently to be removed from the restricted list. A perfect rifle for long-range shooting competitions, the Barrett 98-Bravo bolt-action rifle features a machined aluminium upper receiver installed on a fibreglass-reinforced polymer lower receiver outfitted with an AR-15 style pistol grip and a fixed stock with adjustable buttpiece and cheekpiece. The Barrett 98-Bravo bolt-action rifle feeds through a detachable, 5-rounds magazine and comes with a smooth action and a 27-inches fluted barrel fitted with a machined flash hider/muzzle brake. The upper receiver features a top, long MIL-STD-1913 "Picatinny" rail for optics, a much shorter rail under the handguard to double as a bipod attachment point, and tappings on the sides of the handguard itself to allow the installation of further rail interfaces should the need arise.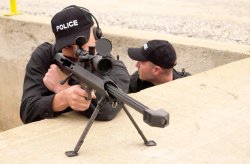 Barrett Manufacturing, Inc.
Barrett Manufacturing will also distribute the M99 in Europe. Barrett's M99 is a single-shot bull-pup rifle featuring a shell-holder bolt head for easier, quicker removal of spent cases and reloading, and is built around an entirely machined aluminium frame and an AR15-style trigger group housing a manual safety switch and a pistol grip. The M99 comes with an underfolding integrated bipod, a top Picatinny rail for optics, and a flute barrel whose overall lenght rises from "merely" 29 inches up to 32 thanks to its massive muzzle brake. In order to be cleared for export, the Barrett M99 rifle was rechambered from the original .50-BMG/12.7x99mm caliber to the new, proprietary .416-Barrett cartridge: basically a necked-down 12.7x99mm round, specifically invented to circumvent the ban on .50-caliber (and up) enacted in many U.S. States and jurisdictions, as well as in many Countries worldwide, the .416-Barrett caliber develops truly unbelievable energy levels, propelling a 26g solid brass bullet at up to 3,250 feet per second (990 m/s) with a force that tops 9,381 ft·lbf (12719 Joules): more than perfect for the European long-range shooters, especially now that competitions with targets placed at 1 Km. and up are increasingly popular even here.


Barrett Manufacturing, Inc.
The Barrett 98-Bravo and M99 rifles will not be available immediately, and certainly they don't come cheap. The price tag for the M99 single-shot bull-pup reaches around 7000€, while the 98-Bravo will cost a little more than 8000€; even with such a high tag, the first lots delivered to distributors all around Europe have all been sold out pretty quickly. All interested buyers in Europe should inquire with their national Barrett distributors for pricig and availability. The Company has an international dealers section on their website, but it only lists representatives that deal with military and law enforcement sales. Civilian sales in Europe will be handled, among other companies, by Wild & Wild S.r.l. out of Sarezzo (Italy), but once again, we urge our interested followers to place inquiries directly with Barrett Manufacturing concerning the contact informations of their national civilian distributors for these fine target-shooting machines.