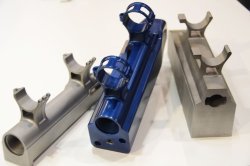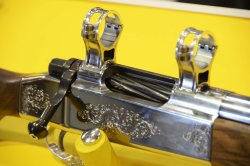 The rifles of Kekki, totally made ​​in Italy, did not go unnoticed during the EXA 2013. The design and the brilliance of the materials exposed rifles have attracted the interest of many people who stopped to observe and ask the exhibitors at the Kekki.
Kekki has patented some basic points: the rings that arise from the full integrated with action, both built in a single step for perfect concentricity, so that their movement will be impossible due to the stress of the shot, (two screws securing of only x 'perspective, instead of the traditional 8/14, available sizes from one inch up to 34 mm).
The plunger shutter falling, with the loading of the spring in place other than the piston itself, so as not to burden the bottom of the cartridge avoiding loss of concentricity in the combustion chamber.
Action to Benchrest and Long range block (with butt applied) so that for the first time all plans are generated numerically controlled machining centers with 5 axis, laser checks in the car, avoiding the need to paste the action to a football, what up to now in common use.
We also made some choices production techniques, very expensive, but complete accuracy of the whole product. In fact, the rings are generated with three points of support for the optics, which becomes self-centering, a tube (optics) will never be in perfect support on a circle (the traditional rings), but on three points finds its perfect support as the chuck of a lathe.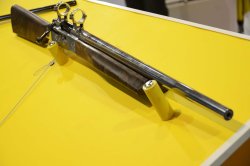 The barrel has a centering which finds correspondence in the thread of the action, which in turn has formed a centering, for a perfect coupling, practically the barrel abuts on the action but is coupled on "centering".
All screws are manufactured by us at the lathe in titanium and dedicated to the single use.
The striker, the shutter, the reeds, the threads of the action and the barrel are finished grinding and turning, for a perfect dimensionality.
The firing pin and the shutter are finished with a series of specific treatment that (besides the beautiful color royal blue) favors their smoothness, maintaining dimensional, resistance to atmospheric agents, chemical, corrosion and scalfittibilità, not the necessary lubrication . The same treatment can be done on request on the action and even if steel rods (life assurance).
All weapons with wooden butt, are standard equipped with bedding, Alu 5 mm and a special floor with pillar bedding plait integrated and billet that block the action, mentr for lacalciatura carbon derive the integrated bedding, football itself, working with table top of 'action, directly in the center of numerical control machining. Football in carbon can be done with color customer's sample or drawings on request. The calcium in carbon has the tip, and then each request of material can be processed.
The camerature are done in three steps: pre erosore, erosore and finish.
The Kekki brings to market the rifles that promise great benefits linked to a high quality design.