At the 2013 edition of the EXA, the Wild & Wild Shop S.r.l., a well-known company located in Sarezzo (BS) that distributes shooting and hunting weapons and accessories, officially announced the beginning of importation of American Barrett Manufacturing products to the Italian market. This has always been a forbidden dream for Italian shooters, in particular for those passionate about long-range shooting. The introduction of the Barrett models were previously "announced" last year by the same company, and finally for 2013, in addition to the definition of trade agreements, Wild & Wild announces the arrival of the first lots and prices to the general public.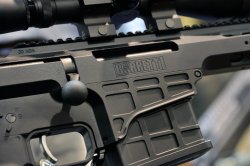 Essentially, the company will import to Italy two models produced by Barrett Manufacturing; both are dedicated to long-distance precision shooting.
The first, and most important, is the 98-Bravo: "civil" version of the MRAD produced for the USA Special Forces; the 98-Bravo uses an upper receiver machined from solid aluminum, a lower receiver made of synthetic fiber reinforced polymer and a fixed stock with cheek piece and butt plate that are completely adjustable. The fluted type barrel has very effective machined flash suppressor; the bolt-action is very quick and slides with extreme regularity. The weapon is powered with a detachable magazine with a capacity of five .338-Lapua Magnum shots, while the compatibility with optics and accessories is guaranteed by a MIL-STD-1913 "Picatinny" rail positioned along the upper receiver and a tapping for additional rails on the trigger guard.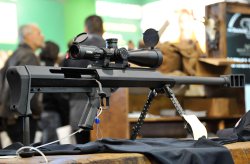 The second Barrett model imported by Wild & Wild is the 99, a Bull-Pup with a full metal construction, receiver machined from aluminum, with subsequent and single chambering (single shot). It is a .416-Barrett caliber, a powerful ammunition invented by the company to offer performance with the same range and accuracy as the .50-BMG for those shooters, like Italian shooters, who live in countries where weapons of this caliber are prohibited; this is one of the three most powerful calibers legally available in our country, together with the .460-Steyr e al .416-TYR; a shooting tool that is a must for all long-range shooting fans, and the single-shot system is a further guarantee of stability and, therefore, precision of the system.
These are not accessible to everyone, since the cost passes from 6999€ for the Barrett 99 to 8390€ for the Barrett 98-Bravo, but the performance and quality of the weapons in question are certainly worth every cent. Despite the price, the demand is very high: the entire first lot has already been sold and there are already orders for the next lots. Anyone interested in these weapons should hurry and make their order...