DIANA - Mayer & Grammelspacher GmbH & Co.KG
PCP is an achronym for "Pre-Compressed Pneumatic", and indicates that class of airguns − generally high-power in nature, that meaning, exceeding 1 Joule in muzzle energy − whose mean of propulsion for their pellet is given by an under-barrel mounted, pre-loaded, high-pressure (generally over 200 Bar) air canister, which is refilled upon depletion through a hand pump or a simple SCUBA air tank. PCP airguns have an array of advantages over standard, manually-operated or CO²-powered airguns; first of all, they can sport a way superior "firepower", that meaning, they greatly outperform all competitors in terms of autonomy and rounds per minute; second, they have a crisp, cleaner trigger pull and a lighter recoil, resulting in superior accuracy overall. But most important of all, they're silent, a quality that's paramount for all those shooters who normally use airguns to hunt down small varmint.


DIANA - Mayer & Grammelspacher GmbH & Co.KG
Over the years, "serious" airgun shooters and airgun hunters came to appreciate PCP air rifles over all other competing products, and the industry seconded the trend, with most airgun makers worldwide adding several PCP models to their production lines. As of today, the only major name in the industry that did not feature a PCP airgun in its catalog was Diana − a company headquartered in the German city of Rastatt and highly regarded as the maker of some of the best, finest and most accurate and effective airguns available on the market today for either hunting or target shooting sports. It clearly couldn't go on this way any longer; that's why the company finally decided to please the demands of countless users and enthusiasts by launching the first PCP rifle in its 40-years-long history. Dubbed the P-1000, it was first spotted on the trade shows floors worldwide in 2011 and 2012, but only in the year 2013 the company managed to reach a global-level distribution for this fine product.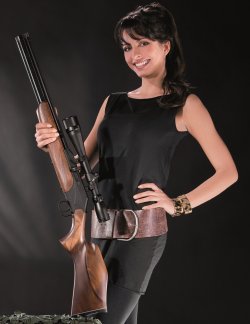 DIANA - Mayer & Grammelspacher GmbH & Co.KG
The Diana P-1000 PCP is powered through a removable, high-pressure (300 Bar) steel air tank with built-in gauge that will allow up to 70 shots before requiring a refill, and will help the pellets to achieve very high muzzle energy and speed levels, up to 40 Joules and 290 to 350 metres per second. Its frame and 445mm-long barrel are mostly built out of stainless steel, while classic walnut is used for the stock and forend. Speaking of stocks, the Diana P-1000 PCP rifle is available with either a checkered-grip, Montecarlo-style comb classic stock or with an ergonomic, adjustable thumbhole stock; other features include Diana's own patented T06 steel made match trigger − individually adjustable for first stage travel and pull weight − a manual and automatic safety system, and an 11mm top rail for optics. The Diana P-1000 PCP rifle is 96cm. long overall, weighs up to 3,6 or 3,7 kilograms, and feeds through a 14-rounds detachable cylinder magazine, available in both 4.5mm and 5.5mm calibers. Its ergonomic shape and well balanced proportions make it ideal for all users, regardless of age and build.
The Diana P-1000 PCP is already available for sale in several Countries in Europe, north America, and worldwide; being a high-powered air gun, though, its availability may be restricted by local laws and regulations. All interested, perspective buyers worldwide may check the list of Diana authorized international distributors to locate one nearest to you; they will be the best source of all informations concerning availability, pricing and legal compliance of the P-1000 PCP and other Diana airguns in your Country or region.