The Daystate Alpha Wolf air rifle is a small marvel of integration between mechanics and electronics in a bullpup configuration that offers the enthusiast some features that just a few years ago could have been imagined only in a science fiction story, starting with the chronograph located inside the barrel, which measures each pellet's velocity. The chronograph operates in tandem with the programmable AVT (Advanced Velocity Technology) operating system, accessible via a touchscreen display that, thanks to the digitally controlled Huma-Air regulator, allows users to adjust and customize their rifle. The ART (Accuracy Research Team) developed barrels are interchangeable. Thanks to its modular design, components such as grips (AR15 style), cheek piece and butt pad of the Daystate Alpha Wolf are fully customizable and compatible with aftermarket products.
Daystate Alpha Wolf, plenty of advanced features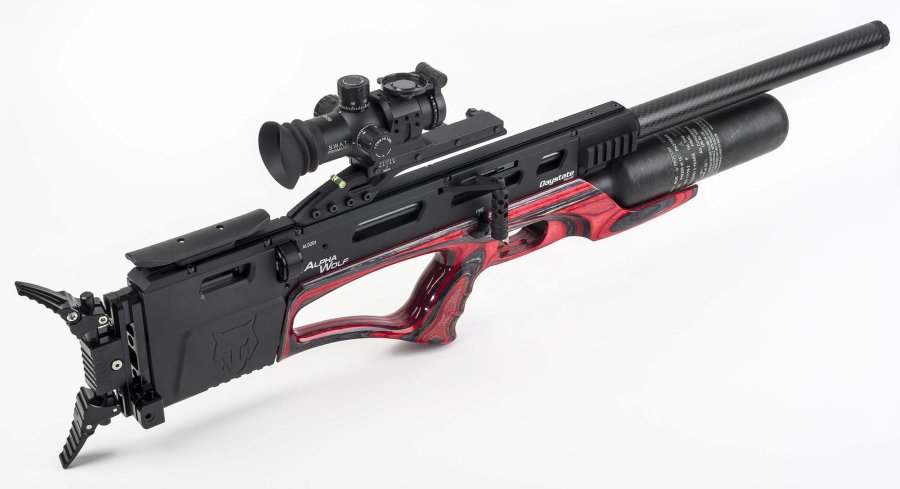 All this electronic sophistication nearly overshadows the lush features of the Alpha Wolf, which is at the top of the range with its spectacular laminated birchwood stock with a glossy finish and an aesthetically pleasant effect of gray and red hues. Available in .177 (4.5 mm), .22 (5.5 mm), .25 (6.35 mm), .30 (7.62mm) calibers, the Alpha Wolf offers the user a bullpup construction, that is with the action and feed system placed behind the trigger, inside the stock itself. 
This allows for a rifle that, with a barrel length of 23 inches (60 centimeters), has an overall length of just 33.1 inches (84.5 centimeters), with undeniable advantages in terms of handling, ease of aiming, and even transport and storage. The Alpha Wolf is also available with a barrel length of 17 inches (43 centimeters).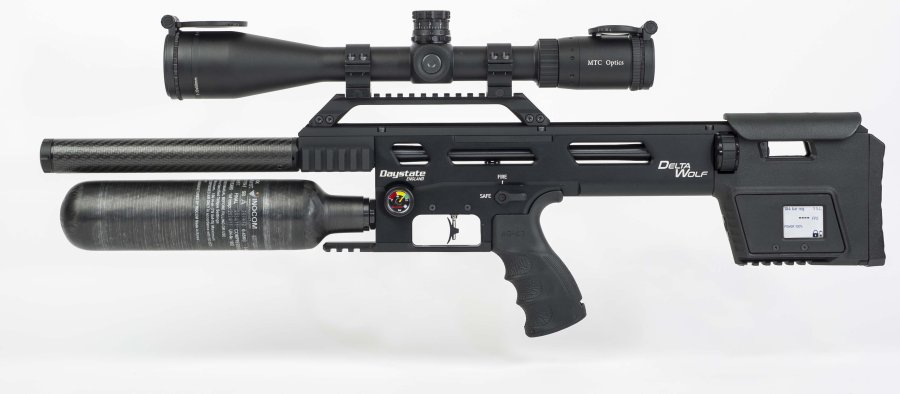 Other notable features of this airgun include an electronic release trigger that allows the user to adjust length of stage, pull weight and blade position according to the user's wishes. The Delta Wolf is fed from rotary magazines with a capacity of 13 (4.5mm), 11 (5.5mm), 10 (6.35mm) and 8 (7.62mm) rounds respectively. Magazines can be inserted from either the right or left side and can be installed and used in concert to double the shot count. To meet regulation requirements, a single-shot magazine is also available and supplied.
The stated maximum power of the rifle in the HP version with a 600-mm barrel ranges from 42 joules in the 4.5-mm version to 128 joules in the 7.62-caliber HP version, and the great versatility offered by the control unit allows this power supply to be exploited to the fullest. The elective use of a rifle of this level is primarily sport shooting, but thanks to the power and availability of more substantial calibers such as the 6.35 and 7.62 it can also be used effectively for varmint control by authorized personnel.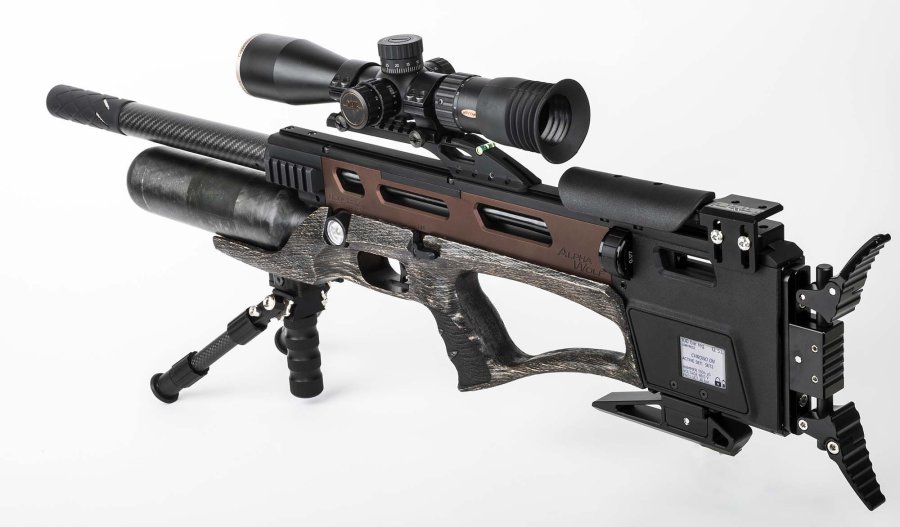 Nigel E Allen, © Nigel E Allen 2017
Now let's talk about prices: the Alpha Wolf model starts at 4,150 euros, while the Delta Wolf – featuring a simpler stock – costs 3,750 euros. These are approximate prices, that may be different in your country due to VAT, exchange rates and import duties. Daystate also just announced a Safari Edition of the Alpha Wolf, featuring a textured Safari wood stock and exclusive bronze-anodised action.
Daystate Alpha Wolf PCP air rifle specs and price
| | |
| --- | --- |
| Model: | Alpha Wolf (HP) |
| Type: | PCP air rifle |
| Calibers: | .177 (4.5 mm), .22 (5.5 mm), .25 (6.35 mm), .30 (7.62mm) |
| Power Supply: | 480 cc bottle |
| Operating Pressure: | 250 bar |
| Magazine: | Rotary, with 13-, 11-, 10-, or 8-round capacity |
| Trigger: | Electronic, adjustable |
| Sights: | None, Picatinny optics rail, M-Lok handguard |
| Barrel Length: | 430 or 600 mm (HP) |
| Stock: | Laminated wood with glossy finish |
| Weight: | 3.35 Kg /3.55 Kg (HP) |
| Price: | From 4,150 euros approx. |
---