First showcased at the CZ shop in Prague, the classic-style, Mauser-type bolt-action CZ-557 "Sporterˮ rifle is due to hit the market after the 2013 SHOT Show. Patterned after the previous CZ-550 and CZ-555 models, the new CZ-557 "Sporterˮ rifle uses a short-travel striker, a spring-loaded extractor and a plunger-style ejector protruding in the receiver onto the head of the cartridge case. Similarities between the CZ-557 "Sporter" rifle and the previous CZ bolt-action hunting rifles are in fact so superficial that the new model only shares a handful of unessential components with them. Furthermore, a wide range of manufacturing simplifications have been adopted, to achieve a significant reduction in price − all while maintaining a significant array of premium features, such as the peculiarly-combed buttstock that will allow quick optics alignment and the laser-textured grip, the aluminium alloy recoil dampening insert within the checkered American pattern hardwood stock, the matte finish on all steel parts, or the Mauser-type action fixed to the stock by two Torx screws for a quick removal and an easier cleaning or trigger adjustment.
Featuring a manual safety switch located just behind the bolt handle and a loaded chamber/striker indicator that protrudes from the rear breechbolt cap, the CZ-577 "Sporterˮ is, without exaggeration, at least one step ahead in accuracy if compared with other rifles and carbines of its kind. The contact points between the receiver and the free-float, hammer-forged stainless steel barrel have been thoroughly re-studied, and so has been the bedding. Endurance tests have so far shown an 8000 rounds minimum service life with the least accurate pattern at 300 metres (about 330 yd.) being 85mm wide.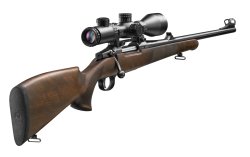 The CZ-557 "Sporterˮ bolt-action rifle will come with high-visibility iron sights, the front sight being hooded and featuring an high-visibility fiber insert, the rear sight being adjustable for windage; quick-mount scope brackets are also built in on the rifle.
Last, but not least, the trigger is fully adjustable for pull weight, creep, and overtravel enabling the user to tune it to match their individual shooting style, although does not have the set function of the CZ SST trigger system.
The CZ-577 "Sporterˮ rifle will initially be launched in .308 Winchester and .30-06 Springfield calibers, with an overall capacity of five rounds for both. Retail price still has to be announced.