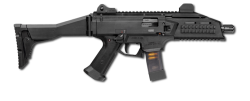 CZ - Ceska Zbrojovka, A.S.
Due to common design specification with top automatic weapons the meeting of the most demanding standards for service is assigned also for these solely self-loading sporting rifles and carbines of the CZ brand which are characterized by high accuracy even when shooting in rapid fire, easy control, exceptional durability and service life high above common standard. This all makes them an ideal choice for modern shooting disciplines and in case of some models even for hunting.
The CZ "Skorpion" EVO-3 S1 is a short 9x19mm semi-automatic carbine fed through detachable 5-rounds, 10-rounds, 15-rounds or 20-rounds double-stack column translucent polymer plastic magazines, based upon the latest generation of the CZ submachine guns, featuring a 196 mm hammer-forged barrel with flash hider, a fibreglass-reinforced polymer frame and machined aluminum upper receiver with pistol grip and a detachable side-folding/telescoping stock, a top MIL-STD-1913 "Picatinny" rail for optics equipped with Italian-made LPA fibreglass front sight and LPA "Ghost Ring" rear sight, and three further Picatinny rails for accessories on the sides and under the handguard. Overall lenght ranges between 410 millimetres with stock removed or folded to 660 millimetres with stock unfolded and fully extended. Overall weight ranges around 2,55 Kilograms, against an overall height of 240 mm and an overall width that can range from 60 mm to 97 mm depending from whether the stock is folded or unfolded.

The blowback-operated, semi-automatic EVO-3 S1 carbine yet is technically radically from the EVO-3 A1 sub-machinegun as it features no full-automatic position in its trigger group, and the would-be selector, which is ambidextrous just like all controls (hold-open device and magazine release pad − the cocking handle is mounted just on one side but is reversible for left- or right-handed use), will only dub as a manual safety enabling semi-automatic fire only. The polymer lower receiver hosts the trigger group and sear just like in the select-fire sub-machinegun, yet in the S1 version the trigger group seat is tighter and features metal walls to prevent installation of full-automatic parts − and this modification can't be simply circumvented by installing an EVO-3 A1 sub-machinegun lower/trigger group on the EVO-3 S1 semi-automatic carbine, as the upper and lower receivers of the two are not interchangeable nor compatible each others.
Otherwise, the CZ "Skorpion" EVO-3 S1 semi-automatic carbine model retains the superb ergonomics and shooting performances of its select-fire version, and thus represents a perfect firearm for either professional or semi-professional training, private security personnel service, home and property defense, IPSC shooting competitions, or simply target practice, range shooting or leisure plinking.