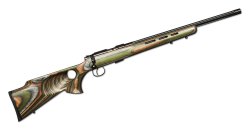 Five new variants of the CZ-455 bolt-action .22 LR carbine series will be launched at the 2013 SHOT Show. The CZ-455 Tacticool, featured in this news opening image, has a number of ergonomic features that make it a joy to shoot. The stock has ambidextrous palm swells on its pistol grip and an especially high Monte Carlo to accommodate larger scopes. The beavertail forend is great for riding bags or affixing a bipod for precision shooting in the field, with a gentle butt hook to provide excellent control.
The CZ-455 Varmint SST, coming equipped with a single set trigger system, allows the shooter to tune both the primary and set trigger pulls for an extremely lightweight, crisp break.

The CZ-455 Varmint Thumbhole is arguably the nicest 455 in the 2013 lineup. Fitted into a vented thumbhole stock in forest camo laminate, it is an extremely comfortable rifle to shoot. To cut down on weight, the varmint-weight barrel is fluted, also speeding cooling as a result of the increased surface area.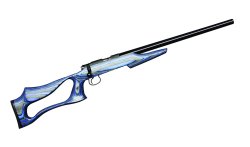 The CZ-455 Varmint Evolution features a radical design, made possible through the increased strength of hardwood laminates. While the bolt is on the right hand side, the stock design is fully ambidextrous including the cheek piece, teardrop pistol grip and palm swell. The extreme free float provided by the Evolution stock design ensures the realization of the full target potential of the 455 Varmint platform.