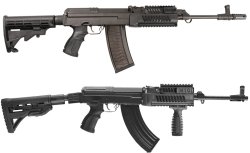 CSA - Czech Small Arms, A.S.
Headquartered in the Czech town of Jablůnka, the CSA - Czech Small Arms A.S., company, used to be part of the D-Technik A.S. group − a conglomerate born in 1995 to manufacture, distribute and broker-deal firearms, ammunition and equipment for both civilian and military/Law Enforcement customers, on an international level; D-Technik originally based its manufacturing capabilities upon the technologies and inherited by the dissolved Zbrojovka Jablůnka, a State-run pyrotechnics and ammunition manufacturer of the former socialist Czechoslovakia that used to provide military-grade pyrotechnic chemicals to the Czechoslovakian and Polish militaries during the Cold War. More or less fifteen years after its foundation, the small arms division of D-Technik broke up from the company: in the previous years, it had acquired manufacturing technologies and rights from CZ - Česká Zbrojovka Uherský Brod A.S. to launch a line of products that would include the SA Vz.58 rifles and the Vz.61 "Škorpion" line of sub-machineguns and semi-automatic pistols.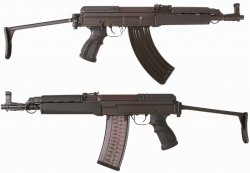 CSA - Czech Small Arms, A.S.
Formerly an emblem of the Cold War and of international terrorism, particularly in Europe, the Vz.58 rifles and the "Škorpion" sub-machineguns are now largely regarded as obsolete and no longer apt for modern militaries − although they still see official service in some Asian, mid-Eastern and African Countries − but their semi-automatic, civilian-grade versions are highly sought after by collectors and recreational shooters; THE Vz.58-based rifles are particularly apt for use in 3-Gun matches, while generally the CSA line of firearms are perfect for private security duties and private ownership for personal, household, property and land defense. All the Vz.58 and Vz.61 variants manufactured by CSA are built according to the most modern quality canons and standards, although maintaining a high degree of faithfulness to the original military firearms; nonetheless, their mechanical components have been modified so that they would only fire in semi-automatic and may not be converted to full-automatic fire without risking to permanently damage the guns themselves: that's what laws and regulations in many Countries mandate for civilian-grade, military-style firearms.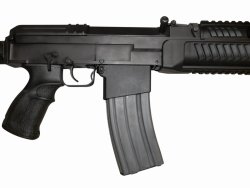 CSA - Czech Small Arms, A.S.
Currently, CSA's versions of the SA Vz.58 rifle platform are regarded as some of the best ever made. The company offers its Vz.58 series rifles and carbines with standard black polymer furniture or Israeli-made CAA Tactical handguards and pistol grips; a small batch was manufactured some time ago with the original wood furniture, though. The CSA Vz.58 rifles and carbines are available with a standard black polymer fixed stock or with a thumbhole stock, with the original metal side-folding stock of the Vz.58V assault rifle, or with a CAA Tactical side-folding and collapsing buttstock; all share the short piston, falling block working system and the wide bolt opening and ejection window that make the similarities between the Vz.58 and the AK-47/AKM systems only aesthetic in nature. CSA's Vz.58 "Sporter Rifle" come with a 410mm barrel, while the Vz.58 "Sporter Carbine" sports a shorter handguard and a 300mm barrel; both versions are available in the original 7.62x39mm caliber − feeding through original-type Vz.58 magazines − and in the .223 Remington (5.56x45mm-NATO) chambering that's much more common in western Countries, these variants feeding through a proprietary translucent polymer magazine, although a snap-in adapter with free-fall magazine release button is available to convert them to use STANAG 4179 (AR-15 style) magazines. Once more, both calibers are available for the ultra-short Vz.58 "Sporter Compact" version, a large pistol variant of the system, featuring a side-folding metal stock and a 190mm barrel.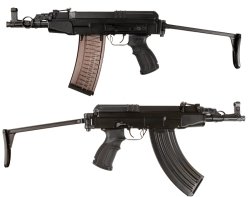 CSA - Czech Small Arms, A.S.
All − or almost all − of the Czech Small Arms' Vz.58 variants are also available in .222 Remington caliber for sale in these jurisdictions that ban civilian uses for all "military calibers". Czech Small Arms' products are now available for purchase through an export net that covers twenty-three Countries worldwide: most of the European Union, the United States of America, Canada, the Republic of South Africa, three Countries in South America and three Countries in central Asia. The list of Countries where the CSA products are available are listed on the company website; all informations concerning pricing and availability are to be asked to your local distributors. The company website maintains a list of authorized distributors for Europe, North America, Central America, South America, Africa, Asia and Oceania. Furthermore, Czech Small Arms has the capabilities to produce its Vz.58 rifles and carbines in full-automatic/select-fire versions upon request, only and solely for military and Police customers.