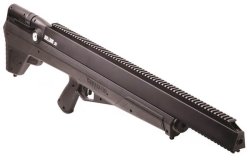 Marketed by Crosman Corporation under the Benjamin Airguns brand, the Bulldog .357 air rifle is definitely one of the most interesting and exciting new product to have been launched this year on the global airguns market.
First showcased at the 2015 SHOT Show in Las Vegas, the Benjamin Bulldog .357 air rifle stands among all of its most direct competitors due to a successful mélange of design, caliber, power factor, and intended use.
A PCP (pre-compressed pneumatic) multi-shot air rifle, the Benjamin Bulldog model is chambered to shoot .357 pellets, and to provide extremely high performance levels for hunting purposes. Even for those Countries or jurisdictions where hunting with airguns is not allowed, however, its features make the Benjamin Bulldog .357 air rifle a must-have for all sensible airgun shooters.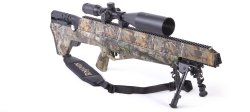 Mostly manufactured out of synthetic materials and available in black or camo variants, the Benjamin Bulldog .357 air rifle was designed in a bull-pup configuration, allowing it to remain 91,5/36" long overall despite featuring a 77,5cm/30.½" long stainless steel barrel. Its overall weight is just under 3,6 kilograms (7.7lbs), and well balanced.
The reinforced polymer chassis sports a 26-inches MIL-STD-1913 "Picatinny" rail above the barrel line, allowing the easy installation of optical sights and other aiming devices; another, shorter Picatinny rail (5" long overall) is located under the muzzle and in front of the handguard, providing an installation point for bipods or other accessories. The barrel is encased in the special, baffle-less SoundTrap™ shroud to suppress the report of this big bore airgun, and a manual safety switch is located inside the trigger guard, just in front of the two-stage trigger.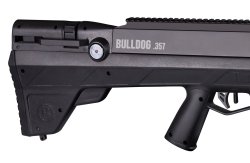 The rapid-release, five-shots magazine offers a quick cound capability on remaining ammunition, and the Bulldog .357 is cycled manually shot after shot through a reversible cocking handle located just in front of the buttstock. The detachable, refillable air canister comes with a pressure meter, hosts up to 7000 PSI in capacity and offers up to two magazines (10 rounds) of full-power shots before requiring a refill.
If the capacity of the air canister seems low (merely ten shots, you'll ask?) that's because the Benjamin Bulldog .357 air rifle is very powerful: each .357-caliber, 145-grains pellet is propelled at a muzzle velocity of around 243 metres-per-second (up to 800 feet-per-second), with a stunning muzzle energy of 28 Kilogram-metres (200 foot-pounds), equivalent to 271 Joules: more than enough to bring down a hog or even an antelope at a short distance.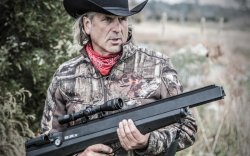 The declared hunting performances of the Benjamin Bulldog .357 air rifle have been tested and found to be true both in north America and Africa by several shooters, including Crosman's own spokesman − professional hunter and shooter Jim Shockey.

The downside of such an extremely high power level is that, in some jurisdictions, the Benjamin Bulldog .357 air rifle would require a gun license to be purchased and owned, and it may even have to be registered with your local Law Enforcement. Nonetheless, the combination of its features make it an extremely sought-after item by airgun shooters in the United States − where it is already on sale at a manufacturer's suggested retail price of $999.99.

So far, the Benjamin Bulldog .357 has also been exported in some foreign Countries: the famous Armuerie Auxerre, in France, keeps it in stock at a retail price of €1,599.00 − although in a reduced-power, 20J version to comply with local laws.