Article also available in other languages
Diemaco Inc. was founded in 1974 in the town of Kitchener (Ontario, Canada) as the logistics and defense division of the Devtek Corporation, an aerospace industry conglomerate which would become Héroux-Devtek in the year 2000.

About ten years later, Diemaco started the manufacture of M16-A2 rifles and M16-A2 carbines (respectively under the C7 and C8 military denomination) under Colt license, to meet the demands of the Canadian Forces which had recently adopted the 5.56x45mm caliber weapon system to replace the ageing 7.62mm C1 rifles, these being the local FN FAL/L1A1 clones that had been in line ever since the year 1955. Diemaco has since worked on to develop a full-fledged weapon system after the baseline C7 rifle and C8 carbine.
Today, Diemaco's family of military service weapons is in service as standard issue with the Danish, Dutch and Norwegian Armed Forces, and has been procured by a multitude of other military and Police units worldwide, most notably the British Special Forces (the legendary 22nd Special Air Service Regiment favors Diemaco AR15-based rifles and carbines over any other variant).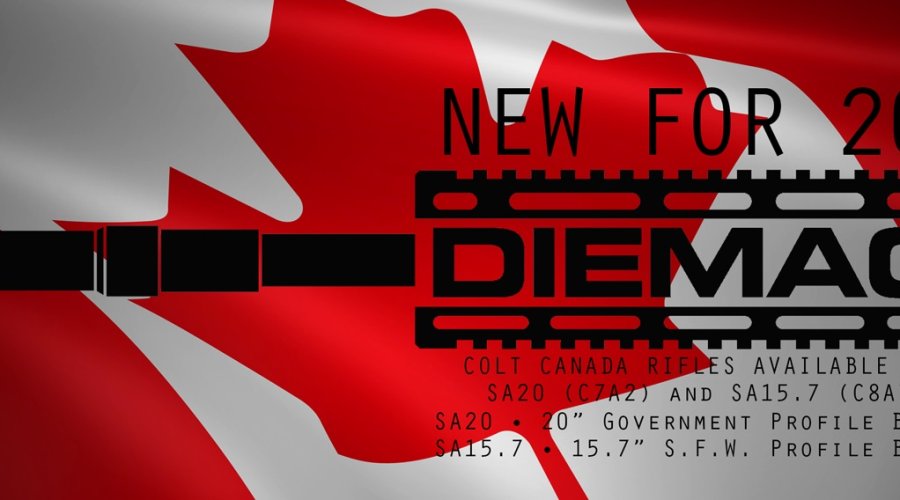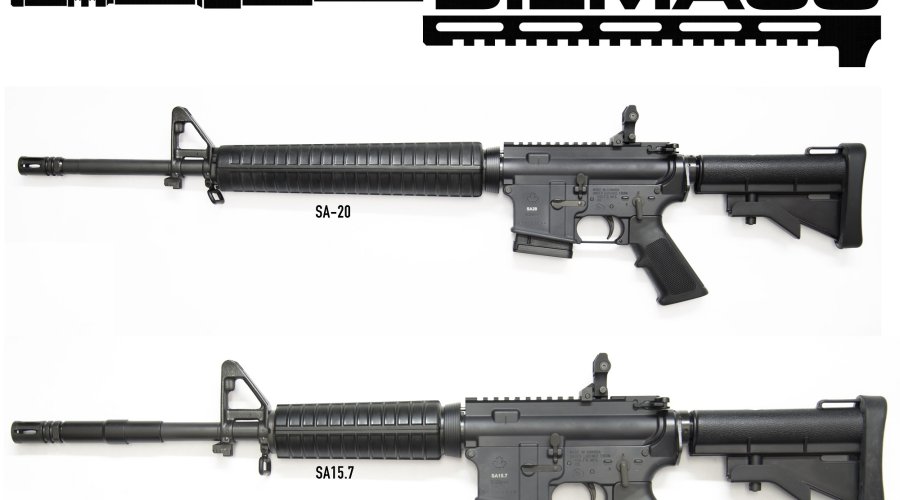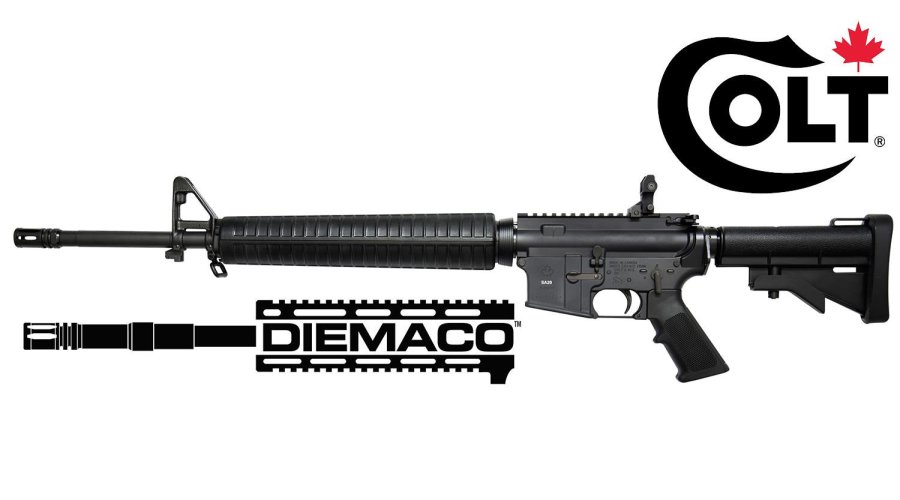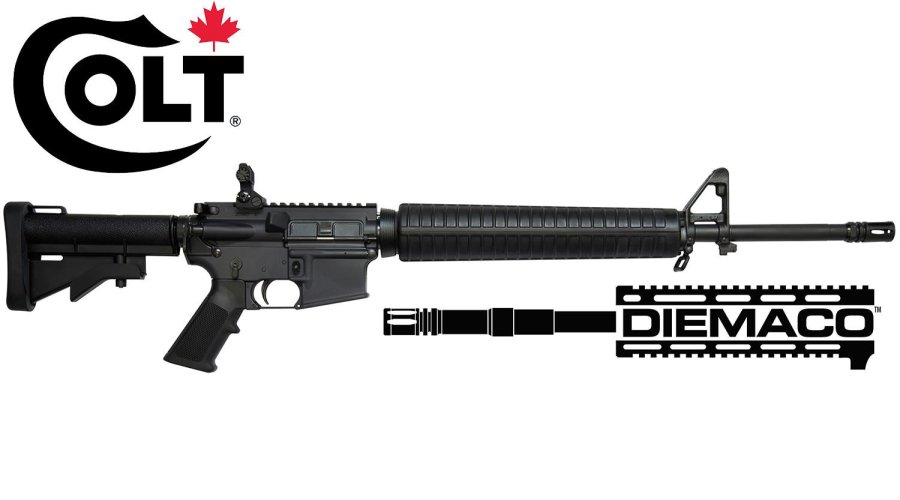 Other products manufactured under license by Diemaco for the Canadian Forces include the FN Minimi light support weapon as the C9, the M203 grenade launcher and the 7.62x51mm ATK "Chain Gun".
In 2005, Héroux-Devtek entered a 18.5 million dollars deal with Colt's Manufacturing, LLC. and sold Diemaco off; the company was rebranded the Colt Canada Corporation, and has been stepping on the new products development and international exports pedals ever since.
As of today, however, Colt Canada didn't answer the request of hundreds of thousands of sports shooters worldwide for the launch of semi-automatic, commercial variants of its products.
Things are however soon going to change. Not only the Colt conglomerate decided to focus even more on the civilian markets, but similar requests also came from law enforcement agencies.
Unlike their European counterparts, most Police agencies in north America limit the use of full-automatic or select-fire guns to SWAT teams and similar special units, while all other officers may only use manually-operated or semi-automatic firearms − exactly the same that civilian shooters may purchase in their local gun stores.
A few weeks ago, the Colt Canada Corporation announced that the iconic Diemaco brand will be revived as the Company's name for a line of civilian-grade semi-automatic rifles and MIL-SPEC components.

In the near future, said line will get to include a plethora of models and gun parts that should be made available on the commercial market both in Canada and in the rest of the world.
To begin with, however, Colt Canada announced that a limited edition of Diemaco SA-15.7 and SA-20 semi-automatic rifles will soon be available.

These two models were conceived as the civilian-grade counterparts of, respectively, the C8-A2 assault carbine and the C7-A3 assault rifle used by the Canadian Forces. Both models are 100% made in Canada, and based on the quintessential direct gas impingment system; they're built around forged, MIL-SPEC Type III hard-anodized 7075-T6 aluminium alloy receivers and sport a cold-hammer forged barrel, ambidextrous controls and a six-positions collapsing buttstock with non-slip rubber buttpad and rubberized top. As for the rest, they're conceived to be martial and minimalist, basically lacking all the "bells and whistles" that most modern AR-15 variants don't seem to be able to do without.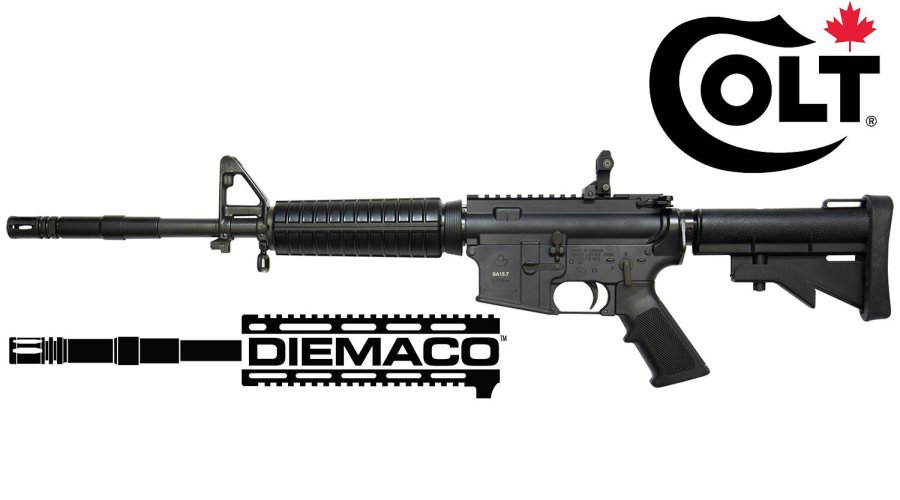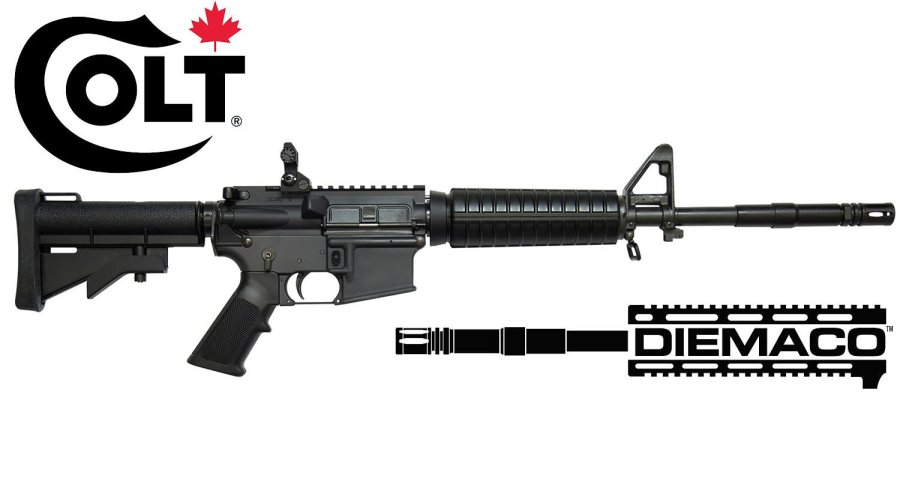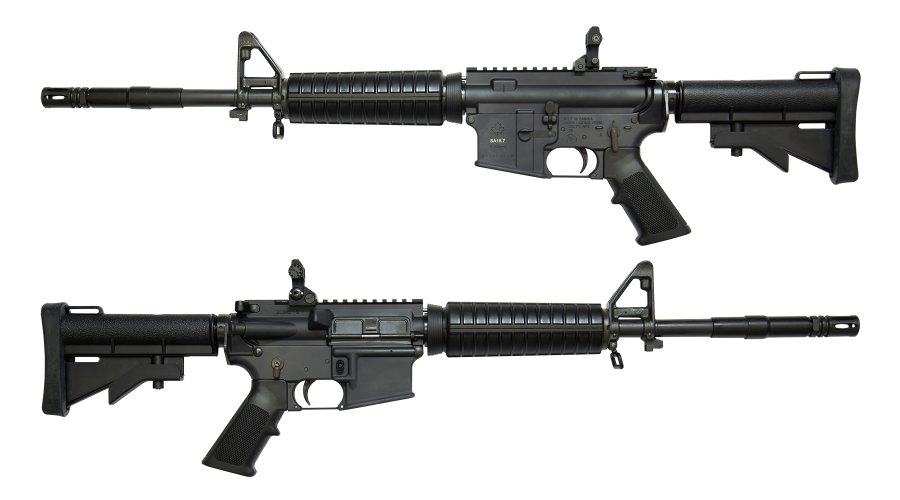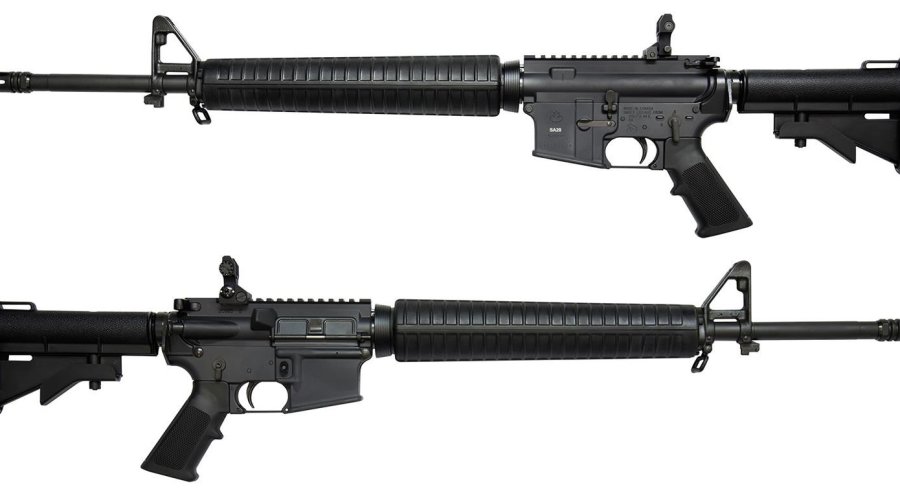 The only exception is a top MIL-STD-1913 "Picatinny" rail for optical devices; as a matter of fact, both the SA-15.7 and SA-20 rifles come in a flat-top configuration, and sport a flip-up, adjustable Colt/Troy rear sight and a standard gas block/front sight assembly with built-in bayonet lug.
The main difference between the two models is in the overall and barrel lenghts.
As its own name suggests, the Diemaco SA-20 comes with a full-lenght A2-type two-halves polymer handguard and a 20-inches barrel; the Diemaco SA-15.7 rifle comes instead with an M4-type non-railed polymer handguard and a 15.7-inches barrel with a distinctly Canadian SFW profile.
In both cases, the barrels sport a "Birdcage" flash hider and six right-handed grooves with 1:7" rifling pitch.
The only projected caliber so far is the 5.56x45mm-NATO, with .223 Remington compatibility, for both models; the Diemaco SA-15.7 and SA-20 rifles feed through standard STANAG 4179 detachable magazines, of any capacity, and come equipped with one magazine (pinned to 5 rounds in Canada and possibly in other jurisdictions, depending from local laws), a two-points Nylon sling, an OTIS Technology cleaning kit and a Colt Canada/Franzen keyed magwell lock that will render the gun inoperable when inserted and locked, for safer long-term storage.
For the time being, the Diemaco SA-15.7 and SA-20 will only be available to Canadian shooters. The exclusive appointed distribution partner − the Korth Group,  from Alberta − has yet to specify a retail or suggested price; as neither Colt Canada or Korth Group sell directly to individual customers, all inquiries should pass through an authorized gun stores.
Our hopes, indeed, is that the SA-15.7 and SA-20 rifles − as well as any other new Diemaco rifle − may enter mass distribution soon enough to make them export-viable to the United States and European markets. Particularly, since for European importers it's easier and cheaper to import firearms from Canada than from the United States, hopes are that European shooters may be able to get those fine rifles even before American shooters!