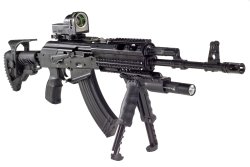 Krebs Custom Gunworks is a U.S. company that features a large number of "tacticized" variants of the Kalashnikov rifle in its catalog, based on the semiautomatic receiver of the Izhmash "Saiga" rifles for the civilian and sporting markets, and on the selective fire receiver of the AKM assault rifle for Law Enforcement and military markets. Krebs products are universally acknowledged to be among the best AK rifles available, and their price reflects this fact accordingly. Such high quality products cannot fail to entice the large Airsoft and MilSim enthusiasts community, but if the real steel is of high quality, then its Airsoft counterpart just HAS to be of the same high quality... so, when company owner Marc Krebs had to decide whether to grant a license to build an Airsoft version of his most successful product, the KC-89 "Enhanced Speedload Tactical rifle", whose main feature is a reworked mag well for easier and faster magazine change, the Airsoft manufacturer could be none other than Classic Army, the Taiwanese company that has state of the art quality of its products  as its universal flag.

The Classic Army version of the  Krebs KC-89 "Enhanced Speedload Tactical Rifle", called CA062M, is manufactured with magnificent workmanship, and replicates in every detail the specs and features of the Real Steel original, granting the user a truly realistic experience in the handling of this replica.
Based on a fully CNC machined steel receiver with aluminum Picatinny RAS handguard and upper rail, the Classic Army CA062M is powered by a rechargeable battery housed under the top cover and feeds the 6mm plastic BB through a high-capacity detachable AK-style magazine. The VLTOR-styled collapsible stock can be adjusted in length and the pistol grip is styled like a TAPCO SAW-Grip, with improved ergonomics compared to standard AK/AKM grips, manufactured in plastic and replicating the shape of the FN MINIMI/M249 light machine gun's pistol grip. The mag opening on the replica's receiver is a perfect reproduction of the AK part, but it can be improved with an additional funnel shaped magazine well, which constitutes the heart of Marc Krebs' "Enhanced Speedload Tactical Rifle" project, since it considerably speeds up mag reload easing insertion of the magazine and also provides an oversized mag release lever that can be engaged with the extended index finger, ultimately succeeding in implementing the closest approximation of a free fall mag release in the AK platform.
---
Classic Army products are distributed in Europe by

ASG - ActionSport Games A/S 
Bakkegaardsvej 304 
DK-3050, Humlebaek, Denmark
Tel.: 0045-8928-1888
Fax: 0045-4919-3160