KIMAR S.r.l. - Chiappa Firearms, Ltd.
Formerly known solely as a manufacturer of modern muzzle-loading or "Old West"-style replicas of historical firearms, the Armi Chiappa company, headquartered in the small town of Azzano Mella in northern Italy, is now widely recognized as one of Europe's most dynamic small manufacturers when it comes to civilian-grade, consumer-aimed hunting, sporting and defensive firearms. Chiappa retains a wide array of .22 Long Rifle products in its catalogue, aware as it is that rimfire guns are not only way more commercially viable even in those jurisdictions where centerfire arms are severely restricted or outright banned, but are also way cheaper than their "full-caliber" counterparts as far as it concerns both the gun itself and the ammunition, and are not bound to caliber limitations imposed in many indoor ranges, plus being quite suitable for teaching basic marksmanship and safety procedures to newbies and youngsters.

KIMAR S.r.l. - Chiappa Firearms, Ltd.
That's the reason why now Chiappa offers not only an entire series of .22 Long Rifle training and plinking handguns based upon some very common service and defensive sidearms such as the Colt 1911-A1 or the Beretta M9, but also a couple of semi-automatic rimfire carbines cosmetically patterned after the WW2-heritage M1 carbine and, more important, after the current-issue M4 carbine, used by the U.S. Armed Forces as well as by countless militaries and Police organizations worldwide. Sold in the United States under a plethora of brand names for some years now, the Chiappa "MFour-22" has been an instant commercial success both in north America and in Europe, even more so that its upper receiver can be purchased as a stand-alone conversion kit to install on any .223-Remington/5.56x45mm caliber lower receiver to convert one's existing AR-15 into a rimfire plinking for inexpensive training and leisure shooting.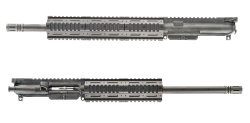 KIMAR S.r.l. - Chiappa Firearms, Ltd.
Capitalizing on this success, Chiappa offers new for 2013 the second generation MFour-22 carbine, dubbed the MFour GEN-II PRO. Aesthetically patterned after the so-called M4A1 "SOPMOD" assault carbine − the special modification of the standard rifle, used by countless military and Police special operations units both in the United States and abroad − the Chiappa Firearms' MFour GEN-II PRO semi-automatic, recoil-operated carbine features an almost 100% synthetic construction, with both upper and lower receivers being completely manufactured in a special polymer whose mechanical features (resistance, etc.) strongly resemble these of the 7075-T6 aluminium alloy used to manufacture .223-caliber AR-15 rifles and carbines. Stainless steel is still used though, most notably to manufacture the bolt and the 16-inch parkerized, Match-profile barrel, which features a threaded muzzle and a removable flash hider.

KIMAR S.r.l. - Chiappa Firearms, Ltd.
Chiappa's MFour-22 GEN-II PRO semi-automatic carbine comes with a standard M4-style pistol grip and telescopic stock, and feeds through a detachable polymer magazine holding up to 30 rounds of .22 Long Rifle ammunition. Featuring no iron sights, it instead comes with a full-lenght MIL-STD-1913 "Picatinny" top rail for optics. It also features a quad-railed free-float aluminium handguard that's modular in construction, being basically conceived in three sections which can be coupled each others, so that the user may set the lenght of his/her own carbine handguard according to his/her needs and preferences. As handy and practical as it is, the Chiappa Firearms MFour-22 GEN-II PRO semi-automatic carbine is a jolly little plinker, that can be purchased in the United States through Chiappa Firearms Ltd. − the north-American branch of the Italian parent company − and through their exclusive commercial distributors, MKS Supply out of Dayton (Ohio), for around 460.00US$.