ARMI SPORT S.N.C. is an Italian firearms company founded in 1952 amidst great sacrifices by Mr. Ezechiele Chiappa, and currently managed by his son Rino. All throughout the years, the company has offered blank-firing replica guns under the KIMAR trademark as well as sporting and hunting guns under the CHIAPPA FIREARMS trademark. Chiappa's catalogue has always been almost entirely composed of classic-style rifles, lever-action centrefires and rimfires, and muzzleloading replica rifles and pistols.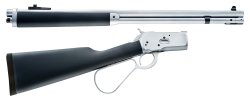 Only recently has its line been modernized by the introduction of the revolutionary RHINO series of revolvers as well as by the launch of some contemporary-style rimfire pistols (1911-22 and M9-22) and carbines (M-Four/22 and M1-22). Yet some of Chiappa's most classic products have also been overhauled in order to better suit the needs of modern shooters and hunters. That's the case of the 1892 Alaskan lever-action rifle, which has enjoyed an immediate success on the U.S. market after its launch in early 2012 and is now being offered internationally.
Chiappa's 1892 Alaskan rifle combines combines tradition with modern technology to creating one of the fastest-handling 1892-type lever-action rifles currently available, specifically designed for hunters.

The Alaskan rifle is a typical lever-action in the best Winchester style, featuring an external hammer and a sliding bolt with top ejection. chambered for the powerful .44-Magnum cartridge; the total capacity amounts to 11 rounds overall, ten in the tubular magazine plus one in the elevator. The manufacturer recommends use of Hornady's "Leverevolution" ammunition, for which the 1892 Alaskan has been specifically tuned for, in order to dramatically improve field performance. A swift reloading and a crisp trigger pull on the 1892 Alaskan rifle are ensured by the large lever loop, easy and comfortable to operate even when wearing gloves, and by Chiappa's longtime experience with in-house parts manufacturing and tuning.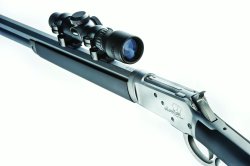 The entire rifle features a satin-chrome finish that will protect metal parts against weather and other external aggressive elements, while both stock and forend, realized in hardwood, come coated with a "Soft-Touch" rubber finish to improve handling comfort. The stock itself comes with a recoil-absorption shockproof insert to make the 1892 Alaskan rifle more manageable when shooting. Further features include a 20" octagonal barrel that is drilled and tapped for QD sling swivels and to accommodate Scout mounts for almost any type of optical sight, and a take-down capability for ease of transport and safer storage. Front post and rear sights are of the Skinner Express © type, manufactured specifically for Chiappa Firearms by Skinner Sights in St.Ignatius (Montana), a company well known for the high-end design and accuracy of its products.
Chiappa's 1892 Alaskan rifle comes has an overall weight of 3 Kilograms and a 6 grooves, 1x20 barrel rifling. A 16-inches barrel model, reducing the overall capacity to 7+1 rounds and overall weight to 2.7 Kilograms, is also available.