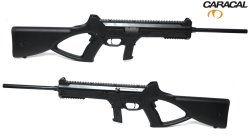 Not much time has passed since the Caracal International LLC. holding, headquartered in Abu Dhabi (United Arab Emirates), launched its revolutionary semi-automatic pistols line on the European markets, with the launch on the U.S. market only coming in 2012. Generally acclaimed by professional operators and sports shooters alike as the perfect semi-automatic handgun, Caracal's product has been well accepted worldwide by those shooters who have been able to test-fire it, and since then it has been hailed as one of the best pistols for sports shooting, self-defense or duty available on the market today, gaining acceptance as the standard service pistol in at least five Countries as well as within a number of local Law Enforcement agencies worldwide.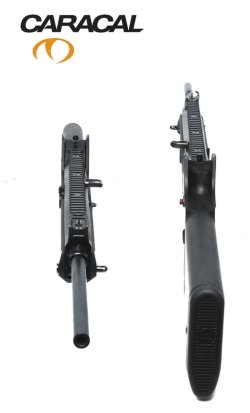 New for 2012 from Caracal is the semi-automatic, 9mm CC-10 carbine, designed as both a leisure shooting and professional instrument. First announced at the 2012 SHOT Show in Las Vegas (NV), it has been first showcased at the 2012 EUROSATORY expo in Paris (France), ADIHEX expo in Abu Dhabi (UAE) and MILIPOL expo in Qatar, much to the hype of the general public. A selfloading, pistol-caliber weapon chambered in 9mm just like the production-grade Caracal pistols, the CC-10 model has been conceived as an all-purpose carbine in accordance with all the most modern canons for what such a firearm should be and feature.
Caracal's CC-10 semi-automatic carbine feeds through Caracal pistol magazines, and will fit the double-stack magazines of the C and F models, regardless of the capacity. The gun is typically straight blowback-operated, and is built around a polymer chassis with a thumbhole stock − a must have for almost all 100% foreign-made mil-style long guns wishing to be imported on the U.S. market under 922R provisions − and totally ambidextrous controls, including a hold-open release lever and manual safety, a reversible cocking handle and an additional grip safety.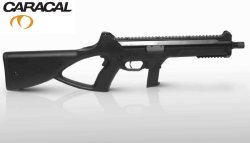 Unlike many similar guns, the Caracal CC-10 comes in a standard layout, with magazine well located in front of the trigger guard rather than inside the grip. Furthermore, it features a top MIL-STD-1913 Picatinny rail for optics, a railed handguard for accessories and adjustable front post and rear sights. Layouts include an LB (Long Barrel) version with a sixteen-inch barrel and an SB (Short Barrel) variant that will be distributed as an NFA-regulated item on the U.S. market. Distribution worldwide is due to start between the end of November 2012 and 1st quarter 2013. Manufacturer's suggested retail price hasn't been announced yet. A slightly-modified, select-fire CC-10 -based sub-machinegun will be launched in 2013.