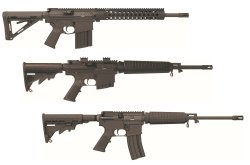 At the 2016 edition of the HIT Show, taking place in February in the northern Italian town of Vicenza, the Paganini company showcased the latest Bushmaster modern sporting rifles that will be made available to European shooters by next March.

The Bushmaster QRC - Quick Response Carbine, Optics-Ready semi-automatic, .223 Remington/5,56x45mm rifle is a basic, plain-jane gun feeding through standard STANAG 4179 magazines; it comes without any provision for fixed or flip-up iron sights, opting instead for a short MIL-STD-1913 "Picatinny" rail on top of the upper receiver providing a quick-attachment point for optical sights. Its 16", Melonite-treated lightweight-profile barrel comes with a 1:8" rifling pitch and a Birdcage-style flash hider. The use of standard-styled handguard, pistol grip and six-position extendable buttstock help to keep the suggested retail price of the Bushmaster QRC semi-automatic rifle at a very low level for the European standards.
The Bushmaster ORC .308, semi-automatic rifle can be described as a .308 Winchester/7,62x51mm caliber variant of the above-mentioned baseline rifle − and as a matter of fact it's just as low-priced as any AR-10 can get. It comes fitted with a top MIL-STD-1913 "Picatinny" rail and no iron sight, standard black plastic furniture, a 16-inch barrel with a Birdcage-type flash hider, and one SR-25 type magazine.

Last, but not least, the Bushmaster 16" MOE .308 Enhanced ORC is a further take on the same ORC .308 rifle, except it comes factory-issued with MagPul's MOE pistol grip and six-positions adjustable stock. The 16-inch barrel is shrouded in a free-float, machined aluminum ventilated handguard, which also allows the use of a full-length top Picatinny rail.