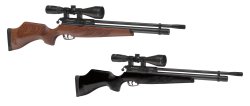 The BSA brand (currently owned and operated by the Spanish-based GAMO Outdoor group) had to abandon most, if not all, of its gunmaking legacy in the past decades, due to the progressive worsening of the gun laws in the United Kingdom; it still survives as a very well-regarded manufacturer of airguns for sport shooting, hunting and pest control, most of which are still manufactured in the BSA's historical hometown of Birmingham.
One of these is the Buccaneer SE, a pre-compressed pneumatic (PCP) multipurpose airgun currently available on the international markets for the joy of airgun enthusiasts worldwide.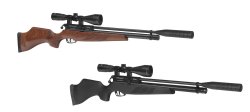 Marked as an "export only" item on the BSA website (thus not available in its motherland UK), the Buccaneer SE air rifle is built around a 470mm/18.5" cold-hammer forged steel barrel and either a beech wood stock or a black synthetic stock.

One of the most important features of the BSA Buccaneer SE airgun's barrel is the extremely effective factory-issued muzzle brake that can be removed and replaced with a sound suppressor where legally available.
The PCP working system ensures smoother, cleaner operation and higher performance levels, while the fast-cycling bolt-action system allows the BSA Buccaneer SE air rifle to provide a fairly high rate of fire, suitable for sport shooting, varmint or pest control alike.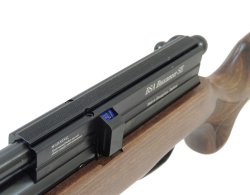 The BSA Buccaneer SE PCP air rifle is 98 cm/39" long overall, and weighs just a little bit more than 3,5 kilograms (7.7lb) with a full magazine and an air tank filled at capacity (the maximum fill pressure reaches 232 bar).
Unlike most competitors, BSA Buccaneer SE air rifle comes with no iron sights, replaced by a top 11mm rail for aftermarket scopes; it's worth pointing out that a wide range of airgun-specific optics are currently made available on the international market by the GAMO Outdoor group under the BSA brand itself.
Another key feature of the BSA Buccaneer SE air rifle is the adjustable two-stage trigger, allowing shooters to switch from a fast-fire oriented weight to a more exquisitely competition-oriented setting.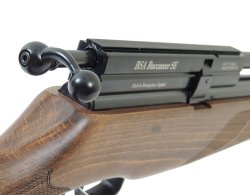 BSA Buccaneer SE air rifle is available in several power gauges: 7.5 Joule, 10 Joule, 16 Joule, 20 Joule, 24 Joule, all the way up to the maximum.

The Buccaneer SE is only available in 4,5mm/.177 caliber in its lowest power rating (7,5 Joule), and in both 4,5mm/.177 and 5,5mm/.22 calibers in all other power ratings. In all cases, it feeds from new and improved 10-shots detachable, knurled rotor-numbered magazines, offering a smoother indexing and featuring a high-impact polymer base and a finger groove in the back plate. A 6,35mm/.25 caliber version of the BSA Buccaneer SE PCP air rifle also exists, only available at the maximum power rating, and feeding through an 8-shots magazine.
BSA Buccaneer SE PCP air rifle is available globally through the GAMO/BSA international distributors network: contact yours to inquire about your local availability and pricing.

This video has been hidden because of an external service (YouTube) that could potentially collect personal data.Allow video services for the duration of the visitAllow video servicesStop allowing video services