Browning International, S.A.
The latest version of Browning's longtime signature autoloader hunting rifle, nicknamed the "Traqueur", has been introduced to the public amidst great press interest at the IWA expo in Nuremberg (Germany) last March. Today, the Belgium-based group FN Herstal that operates Browning as a brand for hunting-oriented firearms and apparel has announced the imminent launch of this new version of the legendary BAR on the international markets.

Browning International, S.A.
As its own name states, the Browning BAR "Traqueur" autoloader has been mainly conceived for hunters "on the move", particularly for battue, which is the most common hunting practice on hogs and other ungulates in Europe. The short (45cm) barrel lenght, combined with the low weight achieved by employing a fluted barrel and synthetic stock and handguard, enhances maneuverability even in the harshest bushes; yet the shooter will be able to achieve fast on-target aligment even without using red-dot, reflex or other similar optical sights, thanks to the high-visibility front and rear sights with colored, bright tritium inserts. First-shot stopping power at typical battue distances is ensured by the two available chamberings (.308-Winchester and .30-06 Springfield), the most commonly used in Europe for this kind of hunting practice. For both calibers, capacity is four rounds in a detachable metal magazine.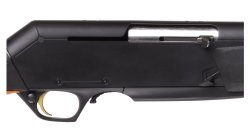 Browning International, S.A.
The special waterproof, corrosion-resistant finish on all external metal parts (barrel, frame) will make the Browning BAR "Traqueur" rifle particularly resistant and long-lived even in the hands of the most demanding hunter, accustomed to hunt in the most extreme conditions. Furthermore, a recoil-absorbing rubber buttpad will help achieve better controllability even when using the hottest loads, while the orange soft-touch rubber inserts on the pistol grip and handguard will both dub as gripping points to prevent the gun from slipping away from the shooter's hand when hunting in unforgiving environments, and as high-visibility tags that will help other hunters to rapidly recognize the user and avoid possible accidents.
The Browning BAR "Traqueur" autoloading hunting rifle is due to hit the markets Europe-wide in August, with an MSRP slated around little over 1300€. No deadline for its commercial availability in north America or elsewhere in the world has been given yet.