Good News for Battle Rifle Company: the Rockport Police Department has ordered six BR4 Cutlass Rifles to upgrade its firearm inventory. The Rockport Police Department is the First Law Enforcement agency to field the Cutlass into service: a small order for an interesting weapon.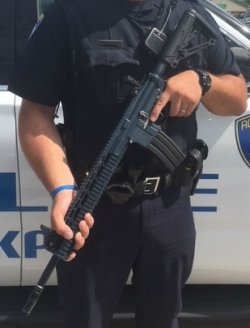 These rifles are specifically designed to perform in all types of environments thanks to a combination of coatings and treatments that make the rifles corrosion-resistant for long periods of exposure to salt-air and saltwater environments. Located about 30 minutes from Corpus Christi, and right on the Texas gulf coast, Rockport is known for its fishing, recreation and coastal lifestyle. The community has experienced growth and development as a Texas vacation destination. The rifles will be used by officers assigned to traffic and patrol, as well as be utilized on the water for the department's Marine division. The BR4 Cutlass is well suited for supporting the department in its operations in a coastal environment. 
Battle Rifle Company, founded in 2010, is a Texas-based custom builder of AR style rifles for law enforcement, tactical shooters and government agencies. Chambered in 5.56 mm NATO, the Cutlass is the free float version of Battle Rifle Company's BR4 Platform (the Company's designation for rifles with lengths of 16in or less), and has been specifically designed for MARSEC (Maritime Security) operations and shipboard usage.
Specifications of the BR4 Cutlass Rifles
Built with care to insure long lasting life in extreme conditions, the BR4 Cutlass, with extended rail and low profile gas block allows for more accessories to be installed and is designed for shipboard, coastal and all weather operations. The rifle features an optional chrome lined or stainless, bead blasted and high-temp finish, 1:7 twist in 16 inch cryogenically treated barrel, NP3 coated fire control components and parts (including dust cover, forward assist, bolt catch, magazine catch, and take-down pins), NP3 M16 profile bolt carrier group, stainless steel pins and lower parts, stainless steel springs, flip up front and rear sights.
Careful consideration that no direct ferrous metal to metal contact is made throughout the entire rifle, insuring corrosion free operation, even after months at sea, making this rifle a perfect choice for shipboard operations, Coastal and Riverine ops. The BR4 Cutlass is available in semi or select fire models.
The new rifles will be delivered with additional magazines, tactical bags and single point slings to complete the package.