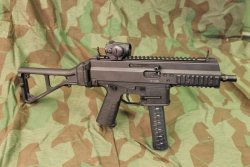 Headquartered in Thun, a town just a few kilometers away from the Swiss capital city of Bern, the B&T A.G. company was originally founded in 1991 to manufacture sound suppressors and silencers for civilian sales in Switzerland, where their purchase and ownership is totally legal. The company thus quickly mastered the techniques, and state-of-the-art technologies, to work on aluminium alloys and polymers, and soon launched their own line of tactical accessories and firearms, including the BT96 semi-automatic carbine  − a licensed version of the German Heckler & Koch MP5 platform − or the MP9 sub-machinegun and TP9 semi-automatic pistol, the APR and SPR bolt-action long-range rifles and the GL-06 single-shot 40mm grenade launcher. A couple of years ago, the company first introduced an "Advanced Police Carbine" system that is now in full production and distribution worldwide for both civilian and professional operators.

Based on a polymer lower receiver and a machined lightweight aluminium alloy upper, all the B&T APC series weapons feature ambidextrous controls − cocking handle, safety and fire selector switch, magazine release catch and hold-open release lever − and come with a side-folding polymer stock. All feed through double-stack, translucent plastic magazines, available in 15-rds, 20-rds or 32-rds variants; other common features include a long top MIL-STD-1913 "Picatinny" rail for optics, three shorter side rails for tactical accessories, and flip-up backup iron sights.
The B&T APC system consists of several variants; the APC sub-machinegun, available for purchase only by military units or law enforcement agencies, can fire in semi-automatic or full-automatic modes at a rate of fire that nears 800 rounds per minute; it may available with a wide array of side-folding stocks, including a patented B&T buttstock specifically designed to be comfortably used by Police personnel operating with helmets and face protection equipment, such as tactical googles or vizors. The APC is also available to civilian shooter and private security operators in three semi-automatic only versions: the APC "Carbine", featuring the same 175mm barrel and overall lenght as the sub-machinegun version; the APC "Sporting carbine", featuring a lenghtened upper receiver (614mm) and barrel (410mm); and the mid-lenght APC-9P carbine, sporting a 240mm barrel and a 444mm upper receiver.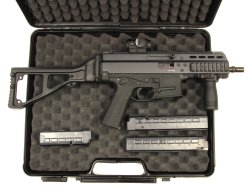 Both the civilian and the Mil/LE variants are available in the APC-9 version, chambered for the 9x19mm caliber, or in the APC-45 version, firing .45 ACP rounds. All in all, the semi-automatic versions are as light and handy as such a weapon can ever be, and surely represent one of the best available options for personal, home and property defense, as well as for private security personnel. The longer-barrel variants have been conceived for more strictly sporting-oriented uses, and may be the only ones to be available in certain jurisdictions, where the shorter version may not be freely sold to civilians (it's the case of the U.S. market, due to NFA rules concerning short-barrel rifles). Last, but not least, the APC semi-automatic carbines may be employes as an effective patrol gun for urban policing operations by Law Enforcement officers in these Countries or jurisdictions where the use of full-automatic firearms is restricted to SWAT-like units, or completely banned from Police use. B&T's APC semi-automatic, civilian variants are already available for sale in Europe and in other Countries around the globe; prices may vary. All inquiries shall be placed with your local B&T distributor: the company has a comprehensive list of licensed global distributors and dealers on their website.