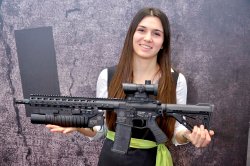 The Swiss-based Astra Defense company – hosted at the 2016 edition of the IWA OutdoorClassics expo by its Italian distributor, the Prima Armi group – showcased its new products conceived for law enforcement and civilian shooters alike.
Despite its look, the MG556 is a semi-automatic sport shooting rifle, soon to be available on the European commercial markets. Soon to be available as a civilian-grade version of the FN MINIMI light machinegun, it sports a totally redesigned trigger group and closed bolt working system that makes it incapable to be converted in any way to full-automatic. The belt-feeding tray is a mock-up: the .223 Remington (5,56x45mm) caliber MG556 only feeds through detachable STANAG magazines, and sports a un underfolding bipod and a folding metal buttstock.
The SL-203 underbarrel shotgun was instead developed specifically for military and law enforcement users, and is already being deployed by otherwise unspecified units in the American continent. Conceived to be easy to use by operators who are already familiar with the 40mm M-203 grenade launcher, the SL-203 fires 70mm/2.¾" 12-gauge shotshells – both lethal and less-lethal – and is meant to be used as a breaching device or to incapacitate culprits before capture.