Article also available in other languages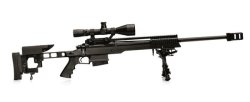 The ArmaLite Inc. company as we know it today was born only in 1995/1996, after Mark Westrom purchased the brand rights and all the related designs to relaunch them; however, the ArmaLite brand itself goes a much longer way, having been established and incorporated in October 1954 as the small arms division of the Fairchild Engine and Airplane Corporation.
Between the 1950s and the 1970s, ArmaLite employed prestigious engineers such as Eugene Stoner and L. James Sullivan, and prototyped or mass-produced important designs such as the AR-10 and the AR-15 rifles, the AR-7 survival carbine, and the AR-18 assault rifle − based upon a gas piston system that's today implemented in most modern individual weapon systems. Today, ArmaLite is a premier manufacturer of semi-automatic AR-10 and AR-15 based rifles and carbines, conceived for both civilian shooters and law enforcement personnel.


Sixty years of activity (albeit interrupted) represent an important accomplishment to celebrate, and the ArmaLite company − headquartered in the town of Geneseo (Illinois) − just couldn't let go and pretend it to be irrelevant.
At the specialized arms trade shows of early 2014 (SHOT Show, in Las Vegas, and IWA, in Nuremberg), ArmaLite showcased and officially launched a new product that had first been announced in late 2013: a new addition to ArmaLite's line of bolt-action long-range rifles. Although not as well known as the company's own AR-10 and M-15 lines of semi-automatic rifles and carbines, the ArmaLite series of bolt-action rifles includes high-quality products for civilian, military and law enforcement applications, such as the AR-30A1 model in .300 Winchester Magnum and .338 Lapua Magnum caliber, and the AR-50 model in 12.7x99mm/.50-BMG caliber − whose latest advertisement campaign has been cause of a recent media hype in Italy as the rifle was portrayed in the hands of the Michelangelo's David statue in lieu of the character's biblical, traditional sling.

Dubbed the AR-31, ArmaLite's latest bolt-action rifle has been basically conceived as a smaller-caliberm short-action, improved version of the AR-30A1. The ArmaLite AR-31 is built around the same black hard-anodized aluminium chassis/stock and sports a polymer AR-15 type pistol grip and a fixed aluminium stock with an extendable butt and an adjustable cheek riser. A blued, modified octagonal steel receiver sports a solid bolt with a very short travel, a manual safety switch on its tail − right behind the cocking handle − and a rotating head with two locking lugs.

Much like the AR-30A1, the ArmaLite AR-31 features a single-stage Shilen trigger with a 5-pounds (2.26 Kg.) pull; its MIL-STD-1913 "Picatinny" interface system includes a full-lenght top rail for accessories and three shorter rails at 3-o'clock, 6-o'clock and 9-o'clock at the front end of the handguard for bipods and tactical add-ons.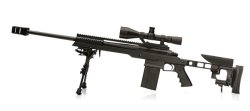 The ArmaLite AR-31 features a 24-inches (60.9 cm. approx.) chrome-moly steel, double-lapped, cold-hammer forged barrel with six right-handed grooves (1:10" pitch) and a huge machined muzzle brake and flash hider screwed on a threaded muzzle, allowing its removal and replacement with silencers or sound suppressors − where and when that's legally feasible, that is.
The ArmaLite AR-31 is chambered for the 7.62x51mm/.308 Winchester caliber, and feeds through AR-10B type double-stack detachable magazines.

This means that the AR-31 is not compatible with SR-25 and DPMS standard magazines, which unfortunately includes the latest polymer mags such as the Lancer L7-AWM and the MagPul 7.62mm PMAGs; but it also means that the AR-31 chambers and fires a much more widely available and a much cheaper type of ammunition than the .300 Winchester Magnum and .338 Lapua Magnum rounds used by the AR-30A1, and that it may use 5, 10, 20, 25 or even 30-rounds magazines, offering higher capacity to sports shooters and a superior firepower to Police and military operators.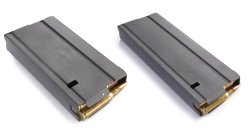 The ArmaLite AR-31 bolt-action rifle is about 110cm. long (45.4 to 47.4 inches), and weighs 14.1 pounds − around six kilograms. Accuracy and performance are astounding: the authoritative "Guns & Weapons for Law Enforcement" magazine tested the AR-31 in February, obtaining 0.29 to 0.60-inches groups at 100 yards: that's about 0.63/1.52cm. groups at about 91.5 metres; these are sub-MOA performances guaranteed, right out of the box, which is exactly what long-range sports shooters, Police marksmen and military snipers ask for.
The manufacturer's suggested retail price for the ArmaLite AR-31 has been set at 3460.00US$ in the United States; perspective non-US buyers should contact their local authorized ArmaLite distributors to obtain informations concerning local availability and pricing. Further informations can be asked at the international sales & inquiries division of ArmaLite.