Officially, on January 17th last year, the news made the rounds that the British manufacturer Accuracy International (AI) had received an order from its German representative POL-TEC to upgrade the German Army's G22 sniper rifles. Under this contract, AI upgraded the G22 and G22A1 precision rifles to the new G22A2 platform, while retaining the .300 Winchester Magnum caliber (7.62x67 mm). "Thank you to the German Army for awarding us with this contract to upgrade their sniper rifles to the G22A2, a superior rifle with full capabilities," said Tom Irwin, Director of Accuracy International. "We look forward to working with our German agent POL-TEC and the BAAINBw (Federal Office of Bundeswehr Equipment, Information Technology and In-Service Support) to deliver these rifles." The German Armed Forces ordered the conversion of 780 rifles to be delivered by 2020.

The G22A2 comes in a huge roller case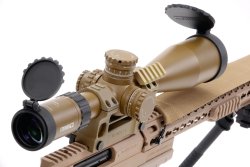 We were quite astonished when we received a huge, approximately 44 lb/20 kg plastic hard-shell case with wheels and handle from the Italian manufacturer Explorer Cases. Inside, besides the G22A2, there were also plenty of accessories, because we received the sniper rifle with its complete equipment as it is delivered to the German Army. At first sight it is obvious that the new official precision rifle from the UK no longer corresponds to the nowadays nostalgic Artic Warfare Magnum Folding Stock (AWM-F) concept, but was brought up to the current state of the art according to the much more modern AX model. The change in the riflescope, from the Hensoldt 3-12x56 (G22) or Schmidt & Bender 3-12x50 (G22A1) to the Steiner M5Xi 5-25x56 MTC LT LPF with TreMoR3 reticle, is particularly striking. The powerful optic is also on top of the G29 Medium Range (aka Haenel RS9) sniper rifle in .338 Lapua Magnum. This leads to a considerable increase in combat value and an extended long-range operational spectrum with an increased probability of a first shot hit. The optic is mounted relatively high with the ERATAC block mount, with 30 MOA forward tilt so that the existing NSV80 night vision attachment can continue to be used.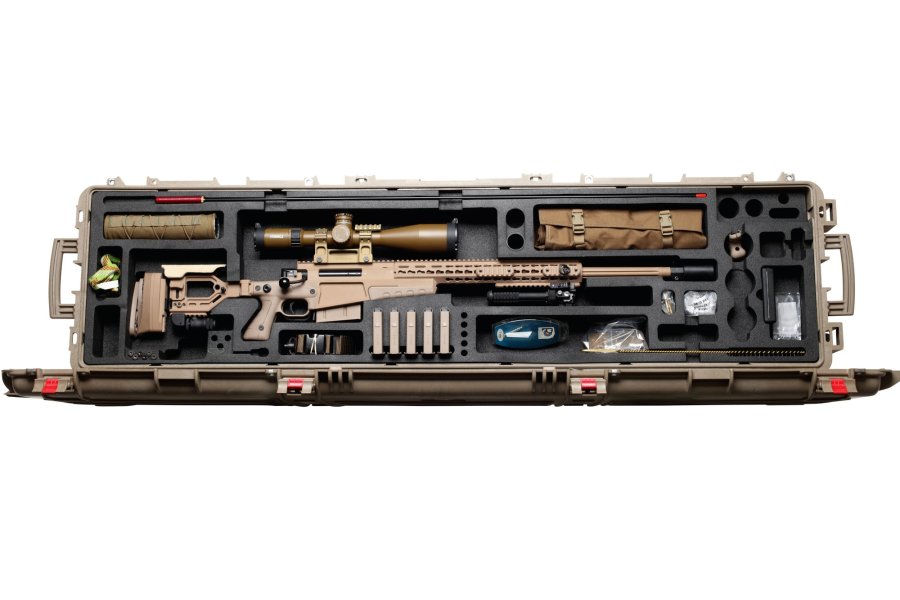 The G22A2: Bundeswehr sniper rifle in detail
The service rifles were converted by the manufacturer in the UK. The main components of the receiver, bolt, barrel and trigger assembly (except for the modified, now straighter trigger blade) were taken from the G22/G22 A1. The bolt locks into the receiver with 6 lugs arranged in 2 rows. Screwed into the receiver, the 26"/66-cm free-floating, 4-groove fluted barrel with right-hand twist and 1:10" twist rate is equipped with a dual-chamber muzzle brake/flash suppressor. The barrel is threaded for mounting an Accuracy International suppressor and is shrouded by an octagonal light alloy handguard with KeySlot mounting points for the attachment of additional equipment. The proprietary, stand-alone AI KeySlot system is not compatible with the KeyMod system. Incidentally, this costly "upgrade" project was carried out instead of a completely new procurement, because a new tender would simply have taken too much time and would have been even more expensive. In addition, the "upgrade" also solves supply problems regarding necessary spare parts.

Typical match rifle modifications to the AI G22A2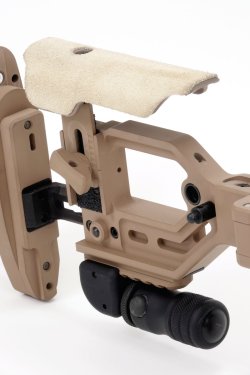 The biggest change to the Bundeswehr sniper rifle has been in the chassis and stock area with the change from the AWM-F to the modern AX style. The aluminum chassis is connected to the action by two screws and is also bonded, giving the G22A2, like all other Accuracy International rifles, maximum stability and robustness. The folding stock with its numerous adjustment options makes long periods of use as comfortable as possible for the sniper. For example, the cold plastic of the cheek rest has also been covered with imitation leather, which makes for more comfortable contact between man and gun, especially in sub-zero temperatures. If the rifle has been left unused in the cold for a while and the sniper then gets into shooting position, contact can be quite unpleasant. 
The cheek piece can be continuously adjusted in height and angle, which is rather unusual in tough military use. Because a lot of pressure is applied in the shooting position, it is possible that a stepless adjustment mechanism could give way and accidentally adjust itself. Accuracy International has reliably ruled this out, as the clamping surfaces of the fine adjustment system are covered with an anti-slip coating, making the mechanisms bulletproof. The rubber recoil pad can be continuously adjusted in length by 1.57"/40 mm, with further length adjustment provided by 10 or 20 mm thick spacers if necessary.

G22A2 in .300 WM: all data at a glance

| | |
| --- | --- |
| Model: | Accuracy International G22A2 |
| Caliber: | .300 Winchester Magnum |
| Action: | Bolt-action, bolt featuring 6 locking lugs in two rows, locking into the receiver |
| Barrel: | 26"/660 mm long fluted match barrel with 1-10" twist rate, muzzle brake and suppressor |
| Stock: | AX aluminum chassis with stock folding to the right with height and angle adjustable cheek piece, length and height adjustable recoil pad, free standing pistol grip and aluminum handguard with Key-Slot attachment points for mounting rails and accessories. Bipod and monopod from B&T Industries complete the stock equipment. |
| Magazine: | Single-stack sheet steel box magazine with a capacity for 5 cartridges |
| Trigger: | Adjustable trigger, measured trigger weight: 59.18 oz/1678 g |
| Safety: | Three-position safety on the bolt, acting on firing pin |
| Overall Length: | 40.55"/103 cm folded, 47.2-49.1 in (120-125 cm)  unfolded |
| Weight: | 20.5 lb/9.3 kg with complete equipment |
On the shooting range with the Accuracy International G22A2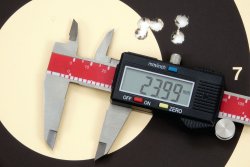 In the past, we have always been impressed by the practical functionality and performance of British sniper rifles on the shooting range. And this time again we were not disappointed by the G22A2 in .300 Winchester Magnum (7.62x67 mm). We were once again particularly impressed by the adjustment possibilities of the AX aluminum chassis, that provides ideal adaptation possibilities to the shooter's individual body and preferences, as well as repeatability in the firing position. The author will also stick such an imitation leather pad on the cheek rest of his rifles, because it clearly contributes to shooting comfort. Official German ammunition types such as DM 121 and DM 11 with full metal jacket soft core bullet for use against soft targets and DM 131 (AP, Armor Piercing) with hard core bullet for use against lightly armored vehicles and technical targets, as well as DM 19 with spitzer bullet are used. Their bullet weight is 13 grams/200 grains, so that in our tests we did not used ammunition with bullet weights above 200 grains. However, we received a tip from a Bundeswehr sniper that ammunition with higher bullet weights can also be used without any problems with outstanding precision. This was confirmed on the 300-m firing range, as we achieved our best result of 0.94"/24 mm at this distance with Sellier & Bellot HPBT 220-grain ammo. We produced a 1.29"/33 mm group with the RWS 190-grain Target Elite Plus and 1.33"/34 mm with the lightweight MEN SFC 154-grain Sniper Line. With the latter ammunition at moderate velocity, we achieved the top result of 0.27"/7 mm on the short 100-m shooting line. With 0.43"/11 mm and 0.47"/12 mm groups, the RWS 190-grains Target Elite Plus and Sellier & Bellot 168-grain Match were not that far away from each other at 100 m. As far as accuracy is concerned, already in the past MEN was usually always ahead at short ranges with the 154-grains SFC Sniper Line cartridge, since it is obviously specially designed for that purpose. However, it is not suitable for long range shooting due to its comfortable velocity, as drop was practically the same as the match ammo from the Czech Republic, but loaded with a 220-grain bullet. The excellent characteristics of the single-stage trigger greatly facilitated accuracy. After a pre-travel of about 49.3 oz/1400 g, only 9.8 oz/280 g were left to the trigger finger for the actual firing, which could be overcome effortlessly. Chapeau!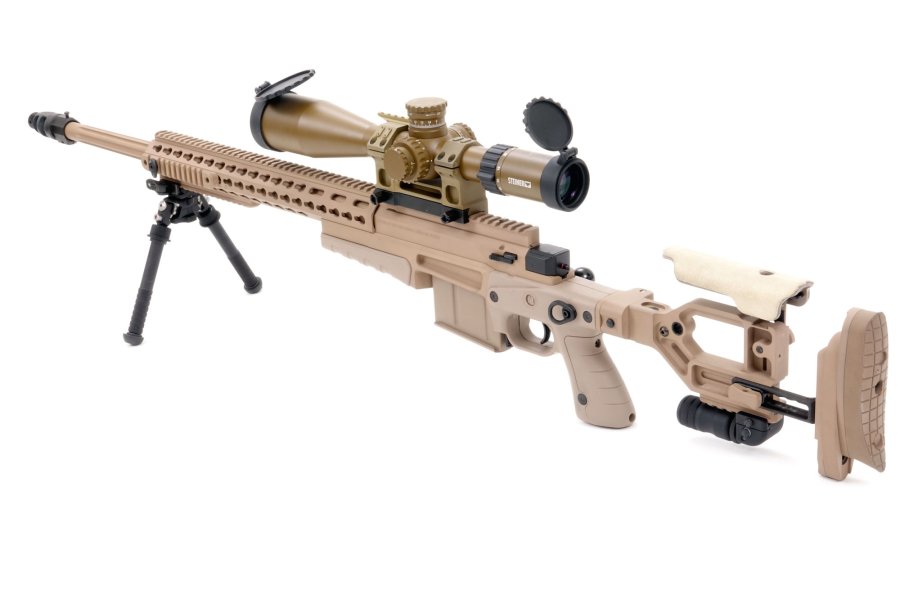 G22A2 sniper rifle in .300 Winchester Magnum: wrap-up

The German Armed Forces G22A2, upgraded to the AX standard, is a powerful, modern sniper rifle in a lavishly complete configuration that is sure to impress. Of course, it can't be purchased by civilians, but an almost identical Accuracy International AX model can be purchased. Time and time again, the British manufacturer proves that it is the gold standard in the international "sniper rifle" world, by which all others must be measured.
---
Text: Stefan Perey and Michael Fischer