They already offered a glimpse of the Bellator a few months ago at SHOT Show 2023. Now 21st-Tec, the manufacturer, announces that the rifles are in full production, in-stock and ready to ship in the U.S. A bolt-action multi-caliber precision rifle system with user changeable barrel, the Bellator is designed for precision long range sub-MOA accuracy with match ammunition and is aimed at shooting enthusiasts, competitive shooters, hunters, as well as police and military users.. The innovative patent pending design uses AR trigger group, safety, rear take down pin, grip and magazine release. The rifles come fitted with a fully adjustable folding or a non-folding stock. Calibers available are .338 Lapua Magnum, .300 Norma Magnum, .308 Winchester and 6.5 Creedmoor. 
Bellator rifles, different calibers and conversion kits

In detail, the Bellator rifles have a forward located left side bolt handle and right side ejection port. They feature a button rifled 416R Stainless Steel Barrel, 2-stage match trigger with a pull weight of 4.5 lb, AR15-style ambidextrous safety selector and options of folding adjustable stock or non-folding Magpul PRS adjustable stock. Barrel lengths are 24"/609 mm for the .338 Lapua Mag. and .308, and 26"/660 mm for the .300 Norma Mag and 6.5 Creedmoor. Finishes available are hard coat anodized Black or FDE. The Bellator uses 10-round detachable box magazines for the .338 Lapua/300 Norma Mag. Cartridges, or standard AR10 metal or Magpul Pmags for the .308/6.5 Creedmoor. A continue MIL-STD 1913 flat rail with M-LOK slots allows for the mounting of accessories.
As for calibers, the conversion between .338 Lapua Mag and 300 Norma Mag. is done by a simple barrel swap – bolt and magazine remain the same. On the other hand, the conversion from .338 Lapua Mag. to .308/6.5 Creedmoor requires switching out the barrel, bolt and magazine well.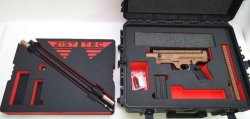 21st-Tec describes the Bellator as "a large caliber precision rifle with the modularity of the AR platform": among its pluses, it weighs less than similar precision rifles, costs less then other precision multi-cal rifles in the same market space, and uses interchangeable AR components and parts
All versions come in custom cut high density foam hard-case with wheels, with an MSRP (in the U.S.) of $5,000 for non-folding stock and $5,600 for folding stock models. The caliber conversion kits from .338 Lapua Mag. to .308/6.5 Creedmoor cost $800 and include barrel assembly, black magazine well & bolt. For the conversion between .338 Lapua Mag and 300 Norma Mag. You only need the barrel assembly, which is priced at $450.
21st-Tec Bellator specs and prices
| | |
| --- | --- |
| Calibers: | .338 Lapua Magnum, .300 Norma Magnum, .308 Win., 6.5 Creedmoor  |
| Operation: | Bolt action repeater |
| Barrel Length:  | 24″/609 mm (.338 Lapua Mag. And .308) or 26"/660 mm (300 Norma Mag and 6.5 Creedmoor) |
| Twist Rate:  | 1:9.4 ( 338 Lapua Mag.), 1:9 ( 300 Norma Mag.), 1:10 (.308 Win.), 1:8 (6.5 Creedmoor) |
| Weight: | From 11.4 lb/5.39 kg to 11.9 lb/5.71 kg (depending on caliber) |
| Magazine Capacity:  | 10 rounds (10 or 20 in .308 Win. and 6.5 Creedmoor) |
| Rail Length:  | 22.5″/571.5 mm |
| Stock: | Adjustable folding or adjustable Magpul PRS  |
| Price (MSRP in the U.S.):  | $5,000 (w/ non-folding stock) or $5,600 (w/ folding stock) |