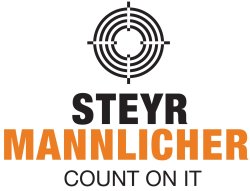 Steyr-Mannlicher GmbH & Co., A.G.
The AR-15 is definitely the new AK, in that, being no longer the state of the art of individual weapons, its manufacturing technology is nowaday so widely spread that the number of Countries whose arms industry produces AR-15/M16/M4 variants increases day after day. The latest Country to jump on the AR-15 bandwagon is Austria, with Steyr-Mannlicher GmbH, the company known worldwide for the AUG bull-pup assault weapon system, announcing today the launch of its own variant of Eugene Stoner's platform. Called the STM-556, Steyr's new weapon system is built around two solid billet aluminium receivers, with a monolythic upper, a top MIL-STD-1913 Picatinny rail for optics and a quad-rail handguard for tactical accessories. Chambered − as of now − only in the NATO standard 5.56x45mm caliber and fed through STANAG 4179 magazines, the Steyr Mannlicher STM-556 rifle comes factory-equipped with MagPul MOE telescoping stock and pistol grip and MagPul flip-up iron sights. The controls reprise the latest standards in AR-15 configurations, and are ambidextrous.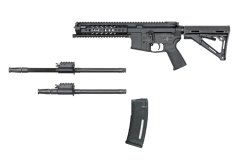 Steyr-Mannlicher GmbH & Co., A.G.
Steyr's own twist in the STM-556 platform is however a quick-change barrel system that allows rapid conversion into any weapon role that the modern warfighter might require to have handy on the field. Capitalizing on the many AR15-related developments of the past years, the Steyr Mannlicher STM-556 assault rifle can be equipped with a variety of barrel lenghts, from 10.5-inch up. All STM-556 barrels come with a Steyr AUG-style flash hider. Barrel change requires no tools and nothing else but the gun being unloaded, with the magazine out and the bolt held in open position, and allows the STM-556 to be converted from the assault rifle/carbine role to a CQB subcarbine, an infantry automatic rifle or a designated marksman rifle in a matter of seconds. The STM-556 rifle features a peculiar hybrid system between a gas piston and a Steyr AUG-style gas block, making barrel change easier.
---
For further information

Steyr Mannlicher GmbH & Co., A.G.
Ramingtal 46
4442 - Kleinraming
Austria
Tel.: +43-(0)7252-8960 
Fax: +43-(0)7252-89653
Steyr Arms U.S.
P.O. Box 840
Trussville, AL

35173 - U.S.A.
Tel.: +1-(205)655-8299 
Fax: +1-(205)655-7078