After a three-years hiatus past its first appearance, and success with both the specialized press and the general audience, at the Las Vegas' 2008 SHOT Show, the wait finally seems to be over. SRM Arms Inc., a company headquartered in Meridian (Idaho, U.S.A.), has finally announced to be ready to publicly launch its series of semi-automatic shotguns for private security, home and property defense, Police and military service.

The SRM Arms shotguns sport a futuristic and aggressive look and are built around a polymer lower receiver and a machined, hard-anodized 7075-T6 aircraft-grade aluminium equipped with a top MIL-STD-1913 "Picatinny" rail for optical sights (no iron sights are provided with any of the SRM Arms models), plus two mid-size side rails for optics and a fourth, short one in lieu of the front sight. All SRM Arms shotguns feature an ambidextrous cocking handle and safety switch, while the spent cases ejection window is located on the right side of the receiver only.

The SRM Arms models also embody an entirely new concept in shotguns design in that they feed through a detachable high-capacity manually-indexing magazine that will hold either 2 3/4 or 3-inch 12-gauge shells in four separate feed tubes, with an overall capacity varying according to the model. After firing out an entire tube, a shooter must rotate the magazine to the next feed tube to fire the next four rounds, until all four chambers are empty. As per BATFE ruling, the SRM Arms magazines are not considered actually so, yet more specifically each one is an assembly of four relatively low-capacity feeding tubes. As such, the SRM Arms shotguns shall not be made object of any legal limitation regarding their overall capacity; legal availability limitation applies instead as provided by the National Firearms Act for two out of three models: while the 16-shots, 32.5" long Model SRM-1216 is entirely civilian-legal in the United States due to its 16-inches barrel, the 27.5-inch long SRM-1212 (12-shots, 12-inch barrel) and the 24.5-inch long SRM-1208 (8 shots, 10-inch barrel) are NFA regulated items and will require proper tax stamp.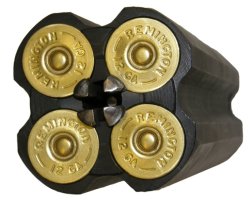 The SRM Arms shotguns are roller-delayed blowback-operated, and their barrels are fully tested for every kind of load, including the hotter combat ones, the more and more popular steel shots, and the reduced-impulse less-than-lethal ammunitions. The working system, quite unusual for an autoloading shotgun, has in fact been chosen as it will ensure proper feeding reliability even with low-pressure loads. Manually indexing the magazine is as easy as pushing the ambidextrous button with the non-trigger hand thumb and rotating the magazine itself counterclockwise until a fresh tube is aligned to the chamber; a fresh shell will then be automatically chambered. Once the magazine is completely empty, a frontal button shall be pressed to free it from its seat for replacement.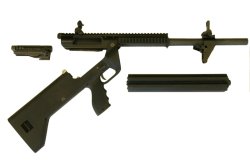 Field-stripping the SRM Arms shotguns will result a quite easy and familiar procedure to those shooters that are already fond with the AR-15 rifle system. The removal of a push pin will in fact allow the two receivers to break open, and the entire, monolithic bolt assembly will be free to be taken out of the upper for cleaning and maintenance. This is yet another face of the SRM Arms shotguns' revolutionary reliability and usability. The system has full potential to become one of the standards by which the future combat/service shotguns will be judged; the main obstacle that stands in their way to full-blown popularity is their own price tag, as the civilian-legal SRM-1216 version goes for an MSRP exceeding US$2,000.00.