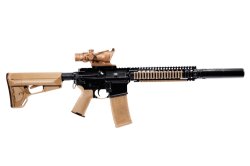 The Saker series of rifle suppressors features 3 key innovations that make it stand alone in its field. The MAAD (Multiple Accessory Attachment Device) mount is an industry first, interchangeable centerfire rifle mounting platform that is used to attach a Saker, or other muzzle accessories, to the users choice of many popular flash hiders and other mounts. With the Saker the user is no longer trapped by a specific proprietary mounting system. The Saker allows the user to configure the mounting system to suit the task or taste of the individual. With several MAAD mounts for popular platforms available now and more planned, the Saker gives unparalleled mounting solution flexibility to its user and a sound suppression level up to 32-34 dB, with full stainless-steel and high-temperature alloy outer shell construction for maximum durability and a well-deserved rating for full-automatic fire use.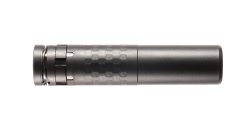 Durability and Accuracy are often a direct result of design effort, and the Saker has no peer in this arena. The Patent Pending "Hoplon" blast baffle is a radical departure from traditional cone blast baffle designs that uses new-to-silencer-design materials (30% more durable than the commonly-used Inconel®), strategic reinforcements and improved geometry to achieve incomparable strength, longevity and repeatable accuracy. Furthermore, since the biggest cause of rifle suppressor damage is end cap strikes, the Silencerco 5.56 Saker also features the "MAAD Cap", the first ever user replaceable, rifle silencer front cap. The "MAAD Cap" is threaded to the fully welded suppressor tube and does not hold any silencer parts inside, so there is no reduction in strength like non welded designs. Users can purchase a spare standard "MAAD Cap" or any other MAAD cap accessories, like Silencerco's own, readily-available "MAAD Cap" flash hider and replace them without the need to return the suppressor for repair. This also allows the user to customize the front of the Saker to meet the task at hand or taste of the user. Modularity is the key defining word of the Saker, from the back to the front.
The Saker wouldn't be complete simply by mounting to other manufacture's  flash hiders. The "Trifecta MAAD" mount is Silencerco's proprietary mounting solution for the Saker and other MAAD accessories. It features fast and easy, one handed mounting with a very repeatable indexing system. To mount, the user will simply drops the Saker onto its "Trifecta RS" flash hider until stops on its index points. Then with a couple of quick turns the Saker is locked rock solid with no wobble or play onto its "Trifecta RS" flash hider. The unique "Trifecta MAAD" mount design has no external levers or ratchets to depress, thus allowing the Saker, with Trifecta, to be recessed under many popular railed hand guards and still retain is fast attach and detach features. The "Trifecta RS" (resonance suppression) flash hider features 3 prongs of different length to eliminate the annoying "tuning fork" effect common to most flash hider designs and features excellent flash suppression when used independent of its Saker suppressor. The "Trifecta RS" is the perfect companion for the "Trifecta MAAD" mount system and stands on its own for its flash reducing and resonance suppression.

Manufacturer's suggested retail price for the Silencerco 5.56 Saker sound suppressor tops 1200.00 US$, with fast attach mount included. Purchase and ownership of suppressors and silencers is legal − although NFA-regulated − in 41 out of 50 States in the U.S.A.; States which do NOT allow purchase and ownership of silencers and sound suppressors are: California, Hawaii, Illinois, Massachussets, Minnesota, New Jersey, New York, Rhode Island, Vermont. Non-US residents should check the legal status of silencers and sound suppressors in their Countries before attempting a purchase or even inquiring about.