Article also available in other languages
SIG-Sauer's first sub-machinegun, to be launched on the international markets at the 2013 SHOT Show, evolves the concept of direct action weapons for special forces and Police operations with a versatile and modular platform based on the AR-15 design as far as it concerns the controls setup, so to allow operators who are already used to the M-16 and M4 to familiarize with it after very little additional training.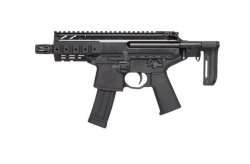 The SIG-Sauer SMG will be a select-fire sub-machinegun available based on a proprietary gas system that will allow the use of frangible, standard or +P+ ammunition without adjustment. Chambered in the 9x19mm, .40 Smith&Wesson and .357 SIG calibers, fed through proprietary 10, 20 and 30-rounds magazines, the SIG-Sauer SMG is built around a scaled-down AR-15 ‒ style lower receiver and a monolythic upper with a quad-rail handguard and top MIL-STD-1913 Picatinny rail for optics. Barrel will feature a birdcage flash hider and will be rapidly removable for easier maintenance.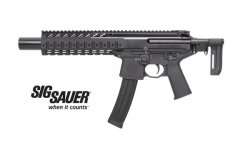 The SIG-Sauer SMG will come in several configurations, including 6.5"-BBL and 12", either standard or integrally-suppressed, and with collapsing or side-folding stock. A 6.5"-BBL pistol and a 16"-BBL carbine will also be available for civilian sales.
The SIG-Sauer SMG will be distributed through the SIGARMS Inc. North American branch, headquartered in Exeter (New Hampshire, USA).