Among the exhibits presented by RUAG are two high-tech products in the field of simulation and unmanned vehicle equipping. These technologies with their military as well as civil applications are growth areas for the Swiss multinational; they are also driving the company's expansion into Europe, the USA and Asia.
RUAG is increasingly consolidating its position internationally as a technology partner and supplier of high-tech solutions. This trend is attributable to the core task of the federally owned company: keeping the Swiss Armed Forces efficiently supplied with high-quality equipment and maintaining their technical systems, including at times of crisis.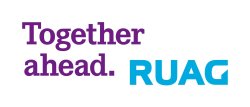 The IDEX fair in Abu Dhabi is the largest show of its kind in the world. RUAG CEO-designate, Urs Breitmeier, is personally on hand for the duration to meet the all the company's important customers and suppliers, most of whom are from Europe and the USA. He sees the growth markets in Asia as of key importance. RUAG expects its presence in Abu Dhabi and the strategic significance of its two high-tech products to catch the market's eye:
The first of these product lines, simulators, is of interest because the defence budgets of a growing number of countries are coming under pressure. In Switzerland, RUAG has shown that the deployment of simulators can save money without risking training effectiveness. RUAG has a proven track record in this field.
The other line of products consists of unmanned vehicle equipping. This, too, is a growth area for RUAG. The technologies used here have military as well as civilian applications: the VERO kit has been developed by RUAG as a straightforward means of equipping regular vehicles. Equipped with such a kit, vehicles are able to reach a destination autonomously, for instance for the purposes of rescue.
Urs Breitmeier: "IDEX is a vital show for us and one that affords us an excellent overview of the market. RUAG's current portfolio means that we are excellently placed in terms of technological expertise and cost-effectiveness. It is striking the extent to which military and civilian technologies are converging."
For more information
Jiri Paukert, RUAG media spokesperson 
Tel. +41 31 376 64 92