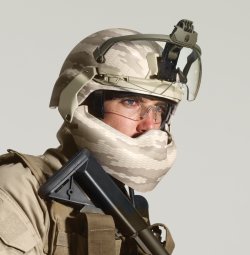 Up to 30% of all battlefield casualties have injuries to the head, face and neck, and these unprotected areas of the armored soldier are not only exposed but targeted by the enemy. There is no question of the vital importance of protection for this region of the body.
Offering the ultimate protection from trauma – blunt force, blast and ballistic – Revision's BATLSKIN MHPS (Modular Head Protection System) is fully integrated and fully scalable, so the user may tailor the system components to the mission for peak performance; in fact, Revision's BATLSKIN head system up-armor and down-armor in a flash, letting the warfighter strike the perfect balance between enhanced protection and lethality.
Designed as a comprehensive system, each Batlskin component seamlessly integrates with the next for a team of equipment that delivers peak performance.
The foundation of the BATLSKIN ACH Head Protection System is the Light Weight High Performance ACH helmet shell. This fully integrated and modular system including the BATLSKIN Front Mount, Mandible Guard and Visor has been designed to work intuitively with the ACH helmet.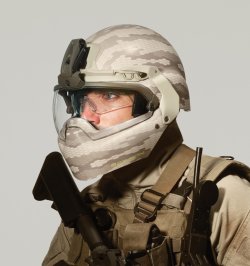 The BATLSKIN system can also be purchased all in one, that is, already mounted to a Revision's own Lightweight Helmet, using advanced shell technology to achieve weight reduction while increasing ballistic performance. Its rigid construction is engineered to withstand blunt force, blast and ballistic threats; hybridized layers of materials bonded through innovative manufacturing processes provide the next generation of combat helmet shells with enhanced ballistic performance, at minimum 20% lighter than current shells for long-wear comfort.
The BATLSKIN Impact Liner uses dual foam technology for superior fit, comfort and impact absorption. Its multi-level design allows for cooling and stability while shim pads afford a custom fit. The entire system exceeds EN 397, Canadian CG634 and U.S. ACH impact standards. Lightweight, sweat-wicking materials offer superior comfort and wearability
The Multipurpose Front Mount is the cornerstone of the BATLSKIN head protection system. It is a robust and lightweight universal NVG mount that triples as the visor dock and mandible guard attachment point. It offers greater stability than current NVG mounts with a 3-point helmet attachment assembly, and it provides the mechanism for mounting advanced protective equipment.
The High-Threat Mandible Guard provides lightweight blunt force, blast and ballistic protection for the lower jaw. Its durable, low-profile design is engineered for rapid attachment and removal while on the run. It can be donned with or without the visor.
TheThree-Position Visor is an optically correct face shield that can be worn one of three ways from maximum coverage to maximum breathability: locked, vented or up. It is designed to provide maximum field-of-view and can be worn with or without the Mandible Guard. It is scratch, fog and chemical resistant.