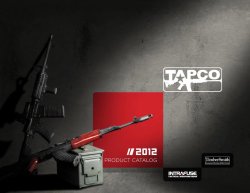 Remington Arms Company, LLC., part of the Freedom Group of Companies, has acquired The American Parts Company Inc. (TAPCO). 
In business for more than 25 years, Georgia-based TAPCO is a designer and marketer of American-made aftermarket accessories and replacement parts for handguns, rifles, shotguns, and tactical firearms. It is best known as the supplier of accessory products for AR15s, AK and SKS rifles and Remington 870 and Mossberg 500 shotguns. 
In recent years, TAPCO has modernized its production through computer-aided design, and rapid prototyping technologies.

"This acquisition will enhance our positioning in the accessories market and allow us to further our research and development capabilities" said George Kollitides, Chairman and CEO of Freedom Group. TAPCO will continue day-to-day operations at its Kennesaw, Georgia, facility.
"With the acquisition of TAPCO, Remington continues to demonstrate its commitment to the firearm parts and accessories business," said Scott Blackwell, President of Freedom Group. "TAPCO is well-known as a leader in delivering innovative and dependable products[.] We are excited about the breadth of the products they bring to our portfolio, and we look forward to utilizing our resources to ensure our consumers and OEM partners benefit from this important acquisition. We welcome TAPCO and its employees into our family of companies".
Up to date, firearms produced by the Freedom Group companies such as Bushmaster Firearms International, DPMS - Panther Arms, Inc. and Remington Arms Company, LLC. were equipped with MagPul accessories. With the acquisition of TAPCO, the Freedom Group of Companies will be able to self-manufacture medium to high-quality tactical and civilian-grade furniture and accessories for its rifles and shotguns.
TAPCO - The American Parts Company, Inc.
P.O. Box 2408
Kennesaw, GA 
30156-9138 - U.S.A.
Tel.: +1-800-554-1445 / +1-800-250-3757
Fax: +1-800-226-1662 / +1-770-426-1510