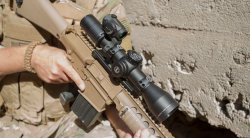 Leupold is pleased to introduce the next generation in long-range and close-quarter hybrid battlefield optics with the Dual Aperture Gunsight Riflescope (DAGR™), the next generation of integrated optical aiming systems for modern small arms. The DAGR System was recently submitted as the solution for the Miniature Day/Night Sight Enhanced Combat Optical Sight – Optimized (MDNS ECOS-O) government request for proposal. This system will be available for consumers in 2013.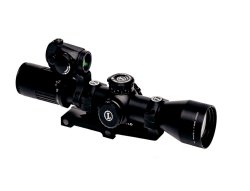 Leupold's DAGR System integrates the cutting-edge Leupold Mark 6™ 3-18x44mm riflescope with the CQB-proven Aimpoint® Micro T-1. American warfighters can go from 1x to 18x in a fraction of a second with this system. With an overall length of less than 12 inches and weighing just 34.2 ounces, the Leupold ECOS-O solution delivers an incredible field of view and rapid target acquisition at an unmatched length and weight.
In order to increase the combat effectiveness, Leupold engineering redesigned the elevation turret to reduce the centerline distance between the two optics to 1¾ of an inch. This greatly increases the speed of target acquisition for CQB engagements.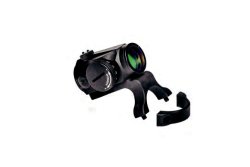 «Combat troops have traditionally had to choose long-range accuracy or close-quarter speed when selecting optics,» said Chris Estadt, director of military business development for Leupold & Stevens, Inc. «Leupold's DAGR System has responded with a shorter, lighter, and faster optical system with unprecedented magnification range in a compact size».
Built in Leupold's Beaverton, Ore, facility, the ECOS-O is the latest in the company's proud military history. Currently, more long-range Leupold tactical optics are in service with the U.S. military than any other brand. Aimpoint has been delivering red dot sights to the U.S. Army since 1997.
The foundation of the DAGR is the Mark 6 3-18x44mm, which offers a specialized short zero lock 0.1 mil adjustment dial with pop up revolution indicator and an easy-to-adjust ocular housing power magnification adjustment. The system includes a Berry Compliant carrying case, Leupold's Mark 6 Integrated Mounting System and Sight mount.